So we got a Land Rover LR2

So a few weeks ago, the staff manning the front desks at the Immigration department made my father run around different counters over two days as he tried to get a residence visa for my college-going brother, since the clerks were on a power-trip and kept asking for random bits of unneeded paperwork, which in the end were discarded without being checked. Incidentally, a few days ago, while dropping my mother off at the airport, I argued with red-shirted staff as they weren't letting me pull my mother's heavy suitcase up till the first x-ray scanner (much before the actual check-in counters, and flying by Emirates no less), and they weren't ready to help her pull it either, trying to kick me out of the building instead. Then a non-uniformed "official" with a walkie-talkie even threatened to call the cops on me if I didn't come back out again after I convinced them to let me go. Right after that, a different set of red-shirted losers kept trying to kick me out when I was trying to buy a Pepsi. Anyway, I was recently contacted by Land Rover and they said an LR2 was ready for me today. What does a Land Rover have to do with my ranting? Absolutely nothing, except that it is nice to be respected around here sometimes.
Technically, I am still on a summer vacation from testing cars, but I'll still take any cars that are thrown at me without asking. The LR2 is almost a year old now, and has been covered heavily by the local media already. Of course, my views might be different from those of "professionals."
The interior looks great, feeling like a mini Range Rover, with premium materials along most touchable surfaces. Only the cloth headliner felt cheap.
Looking up, you'll notice the dual glass moonroof areas, and the forward one even opens. The glass areas have transparent pull-over covers, which lets the sun in and makes the a/c work harder.
I haven't looked through the clutter of buttons yet, but the touchscreen holds a navigation system, and the dial near the shifter has settings for some "terrain-response" system.
The back seat is just about adequate, possibly having less legroom than a Toyota RAV-4, but definitely similar to the space in the larger Range Rover Sport.
The rear-seat passengers get some sort of individual controls for the stereo. Check out the row of exposed cup-holders, and there are still two more hidden in the rear-seat central armrest.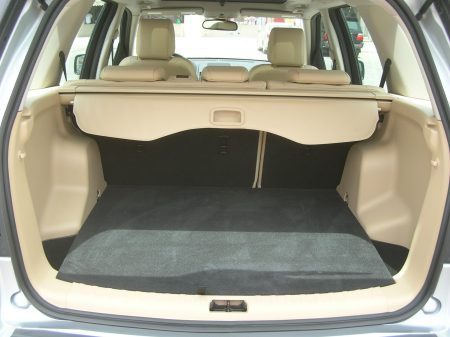 Rear cargo area is adequate for its size, and nothing to get surprised over.
After all that, I tried to start the car and sat there like an immigration-counter guy, wondering how to do it. The key-fob has no metal key, so it took me a minute to find the start button. I hammered it and the engine still didn't start as I fumbled about for a few additional minutes, sweating in the heat. Finally, I found a hole hidden in the dash and stuffed the key-fob in. It still didn't work, so I took the key-fob out, stuffed it back in upside-down and again pounded on the start button. It worked!
After all that sweating, I just drove back home. Full testing will have to be done another time, as I have this attractive body-kitted SUV for three days.