BMW X5 gets G-Power TYPHOON kit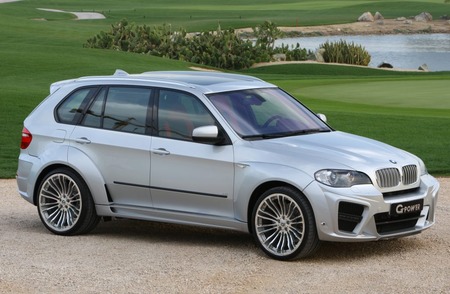 So your neighbour went ahead and got himself "the most masculine Porsche Cayenne in the world" while you are left holding your garden hose, feeling disgusted by your gay BMW X5. To save you the embarrassment, European tuner G-Power is now offering a beef-up package for the X5, calling it the G-Power TYPHOON, complete with a massive power upgrade that makes it the manliest X5 around.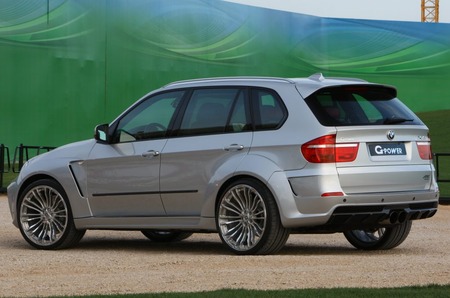 Muscular fender flares and strikingly styled aprons and spoilers front and back, all designed for maximum aerodynamic efficiency, dominate the appearance of the G-Power TYPHOON. The body conversion components and the tools to make them were developed by the G-Power designers using the latest CAD technologies. The entire base car was scanned in-house using a 3D scanner. The TYPHOON components are manufactured in OEM quality from PUR-R-Rim plastics.

The curved G-Power fender flares on front and rear axle come complete with matching fender liners and add seven centimeters to the width of the X5. They create the space necessary for extra-wide wheels and tires. The largest version features Silverstone Forged Edition forged wheels in size 11Jx23 in front and in size 12Jx23 on the rear axle. These wheels were custom-developed for the TYPHOON. High-performance tires in size 315/25 ZR 23 front and back from development partner Michelin provide optimal traction and sporty handling.

Another example for the sophistication of the G-POWER TYPHOON version for the BMW X5, available as a kit starting at 14,500 Euros, is the four-piece underbody paneling.

In cooperation with ASA Engineering, a world-renowned engineering company and OEM supplier of high-tech superchargers, G-POWER has developed a supercharger system for the V8 four-valve engine. The G-POWER SK III compressor system increases power output of the 4.8-litre engine by 170 hp to 525 hp at 6100 rpm and boosts peak torque to 600 Nm at 5300 rpm, up from 475 Nm.

A two-piece carbon-fibre intake manifold with large free-flow cross sections, a generously dimensioned aluminum intercooler in the bow of the X5 and the fully stainless-steel high-performance exhaust with racing catalysts and rear muffler comprise the engine peripherals.

The powerful five-door sprints from rest to 100 kph in just 5.0 seconds and reaches the 200 kph mark after just 18.4 seconds. Top speed is 275 kph.

The TYPHOON cockpit can be upgraded with exclusive accessories such as an ergonomically shaped sport steering wheel, a TYPHOON-design speedometer and a number of sporty aluminium accessories. Requests for an even more customised interior can be fulfilled with exclusive leather and Alcantara interiors in any colour imaginable.
We believe there are G-Power dealers in Dubai, Abu Dhabi and other parts of the UAE, but we've never heard from them. Suffice it to say, these trucklets will be terrorising commuters around the GCC soon enough.