G-Power M6 Hurricane CS based on BMW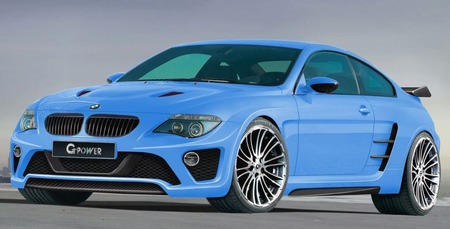 G-POWER, known for creating pointlessly fast variants of BMW models, have now introduced the G-Power M6 HURRICANE CS, possibly the fastest BMW ever.
Based on the BMW M6, the Hurricane CS is powered by a V10 SK III RS twin-supercharger engine. The 750 hp is available between 7500 rpm and 8000 rpm. The engine delivers its peak torque of 800 Nm at 5000 rpm.
The overdone M6 boasts sprint times of less than 4.4 seconds from rest to 100 kph, 9.6 seconds to 200 kph and 26 seconds to 300 kph. Top speed is expected to be around 370 kph. Due to the capacity of the tyres the top speed of the two-ton coupe has to be limited to 340 kph.
Further characteristics of the G-POWER M6 HURRICANE CS is a widebody kit, a high performance carbon-ceramic brake system, adjustable suspension kit and 21-inch wheels with MICHELIN tyres.
After the G-POWER M5 HURRICANE RS broke the world record for the fastest sedan, G-POWER developed this idea to use this potential to build the world's fastest BMW coupe, the G-POWER M6 HURRICANE CS.
The G-POWER M6 HURRICANE CS can be ordered as a complete car starting at 360,000 Euros.