Comparo: 2010 Jeep Wrangler VS 2002 Jeep Grand Cherokee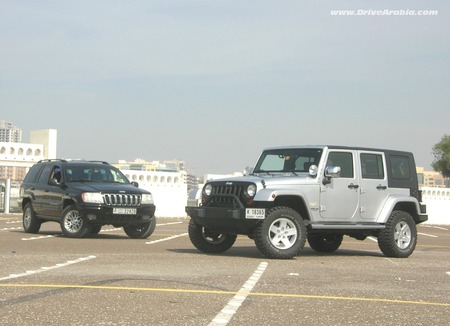 This urban comparo is about as meaningless as it gets, but for the sake of argument, we'll give it a go anyway. We've had a 2002 Jeep Grand Cherokee V8 since late 2007, and this is the first time that we've managed to drive another Jeep vehicle since then. Our Grand Cherokee was the epitome of American 4x4s back in its day, with capable off-road and on-road performance, packed with leather, full-time 4WD and a V8. The Wrangler has always been a simplistic offroader, but the latest generation claims to be the most refined and practical Wrangler ever, with options such as four doors and Bluetooth, so we figured we'll compare it to an actual 7-year-old luxury Jeep and see how comfortable the silver truck really is in the city.
Size
This is the first Wrangler that could be considered a midsizer, after years of being classified as a compact SUV. However, next to our Grand Cherokee, the Wrangler Unlimited looks gargantuan with a Mopar lift kit. But cabin volume feels virtually identical in both the vehicles.
Cabin
It takes loose-fit jeans to climb onto a lifted Wrangler. Anything else will rip. On the other hand, my aging mother can manage to climb onto the Grand Cherokee, even without side-steps. Once inside, the Grand Cherokee offers up leather and a fair amount of soft-touch plastics, unlike the Wrangler, whose only soft interior bits are the stain-proof cloth seats and the padding on the roll cage.
Technology
The Wrangler can be optioned up with surprisingly good tech, such as the UConnect-integrated stereo which comes with a voice-controlled Bluetooth phone, and a CD/MP3 stereo with roof speakers and dash tweeters. Also included are power windows and keyless entry, but the mirrors and seats are manually adjusted. The old Grand Cherokee comes with power-operated everything, as well as a CD stereo with 10-disc changer and more speakers. Bluetooth was unheard of back in 2002, but we installed an aftermarket hands-free kit in ours.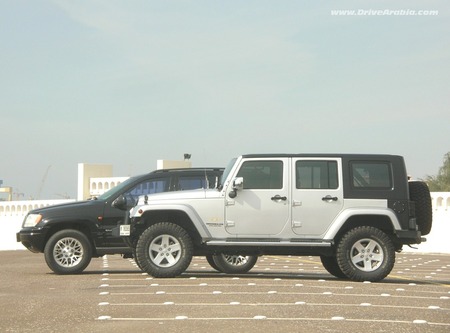 Drive
Both vehicles have live-axle suspension both front and rear, which is rare among today's phussified 4x4s. While good for offroading, such a setup is generally not good for ride quality. But while the Wrangler rides like a truck, the second-generation Grand Cherokee has always been praised for its acceptable ride comfort, given its underpinnings. The Wrangler is also louder, with a cacophony of noises from the wind, the tyres, the engine, and even the biker farting in the next lane. Those plastic roof panels don't block any sounds.
Performance
The Wrangler manages with a 3.8-litre V6, while our Grand Cherokee has a 4.7-litre V8. No contest here. Oddly enough, the V6 gulps down as much fuel as our V8.
Handling
The Grand Cherokee easily has the upper hand, with moderate body roll and decent grip from the road-biased tyres, as well as a gutsy all-wheel-drive system. The Wrangler, fitted with special Mopar shocks and offroad tyres on our tester, also kept body roll within surprisingly moderate levels, but its grip limits are much lower, causing the stability control to intervene too early. And let's not talk about the joys of parking a Wrangler without sensors.
Respect
The Grand Cherokee gets at least a middling amount of respect on the road, largely due to people thinking they are only driven by Europeans and Levantine types. However, the Wrangler — with its aftermarket battering-ram bumper and sky-high lift — scared the crap out of just about everybody who happened to cross our path, giving way at crowded intersections and what not. But we felt embarrassed showing up in this monster truck for a suit-and-tie meeting.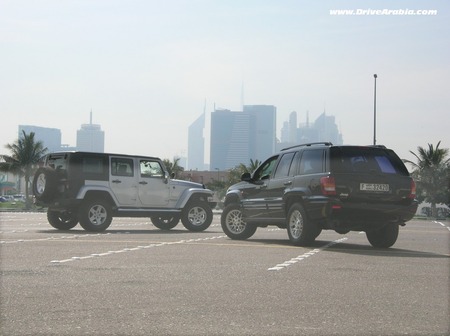 So is the Wrangler refined enough to be a daily driver? We'd personally take a pass and prefer a Grand Cherokee any day of the week. Undoubtedly, the Wrangler is infinitely cool. But just like owning a Mini or a Corvette, it really is better to own one as a second car, for those fun excursions to de-stress from work.