Ford Shelby GT500 2011 revealed

The Ford Shelby GT500 2011 will come fitted with a new aluminium-block 5.4-litre engine producing 550 hp with 690 Nm of torque. The new engine is 46 kg lighter, therefore improving performance.
Due to the lighter engine and improved aerodynamics to the underside of the car, fuel economy has improved giving it an impressive 10.2 litres/100 km on the highway and 15.6 litres/100 km in the city. Power-wise, the new GT500 has gone up by 10 hp from the previous 2010 model with better tuning of the new exhaust system. Also 80 percent of the torque is available between 1,750 rpm to 6,250 rpm. The superchargers has 40 percent better cooling as well.
The 2011 Shelby offers a SVT Performance package. This includes Goodyear Eagle F1 SuperCar G tyres, lighter wheels, a higher rear axle ratio and stiffer springs. Slotted brake dust shields are added to improve brake cooling and handling. The ride height is lowered 11 mm in the front and 8 mm at the back for better handling.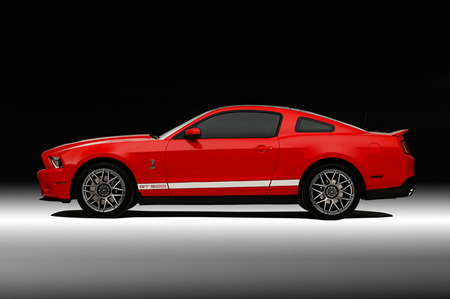 With the new 2.75-inch exhaust system, the exhaust sound is now louder but the road noise has reduced by 20 percent from the 2010 model with better deadening material around the car. So the driver hears more engine noise than road and wind noise. The 2011 gets 19-inch rims as standard.
The convertible version is said to be 12 percent more rigid than the 2010 model with a more enhanced stiffened structure. A less expensive option than the convertible is opting for the new glass roof coupe version. Other new convenience technologies include standard HID headlamps, MyKey programmable vehicle key, integrated spotter mirror, fold-down rear headrests.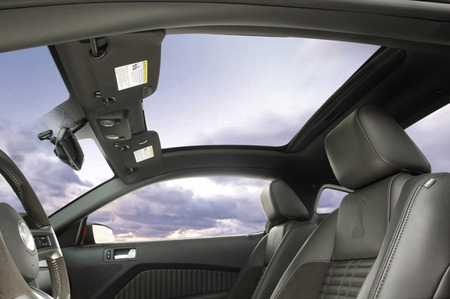 The Ford Shelby GT500 2011 will probably hit the UAE and GCC by the end of this year. To keep track of the latest models and price updates in Dubai and Abu Dhabi, check out the Ford Shelby GT500 buyer guide.