Volkswagen CrossPolo 2010 revealed

Volkswagen has revealed the Volkswagen CrossPolo 2010 for the compact class market. Originally designed to be a special edition model for the Polo Fun, the CrossPolo is now being released as a full production model.
The five-door CrossPolo has been given a "rugged all-terrain look" by giving it a 15 mm higher ride height than the Polo Fun. The lower part of the bumper has been painted in light silver to give it a "visual appearance of underbody protection". It gets some 17-inch rims wrapped around 215/40 sized tyres. It also comes with roof rails.
In the interior, the higher model gets the two-tone fabric seats. The rear seats can be folded down to increase the luggage space.
The CrossPolo will be available in three petrol and three diesel engines. There is a 1.2-litre producing 69 hp. Then there is the 1.2-litre TSI which produces 104 hp. The third petrol engine is the 1.4-litre engine which produces 84 hp. The quickest obviously being the 1.2-litre TSI engine, reaching 0-100 kph in 9.9 seconds. Only the TSI engine gets the 7-speed DSG gearbox as optional, with a 6-speed manual transmission being standard. Diesel models are all 1.6-litre turbocharged engines, featuring three different power outputs. The lowest one producing 74 hp, the second producting about 89 hp and the quickest one among the three producing 104 hp. As expected, the fuel economy is great in these cars, the 1.2 litre TSI achieving 5.5 l/100 km and the 1.6 TDI engine having a rating of 4.6 l/100 km.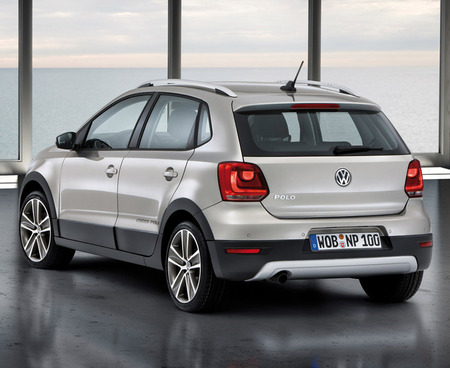 The Volkswagen CrossPolo 2010 is being launched across Europe and in Japan after May. If it will be sold in the UAE or GCC market is not known. For future updates on the Volkswagen Polo model in Dubai and Abu Dhabi, check out the Volkswagen Polo buyer guide.