Porsche 918 Spyder Concept revealed

The Porsche 918 Spyder is not only going to be super fast, but also super fuel-efficient as it will be a hybrid. Already electric versions of the 911 GT3 R Hybrid and the 2011 Porsche Cayenne S Hybrid being released, the 918 Spyder will also follow Porsche's new trend of building fast cars while keeping emission levels low.
And the Porsche 918 Spyder is quite fast, having a high-revving V8 engine which goes all the way up to 9,200 rpm. It produces about 500 hp, not counting the electric motor, which adds another additional 218 hp. So that's about 718 hp. All this power will help you reach 0-100 km/h in just under 3.2 seconds and give a top speed 320 km/h. Also, the mid-engine 918 Spyder is said to be faster than the Porsche Carrera GT around the infamous Nurburgring track, having a lap time of less than 7:30 seconds. Power is transmitted through the 7-speed PDK transmission. And fuel economy for this car? It is said to be as low as 3.0 l/100 km.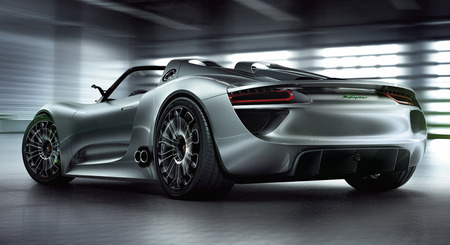 Different drive options are available, the E-Drive mode allows you to run on electric power alone and this gives you a range of 25 km. The Sport Hybrid focuses on performance with most of the power going to the rear wheels. Then there is Race Hybrid mode for purely performance based driving such as on the track.
The exterior is made of carbon-fibre-reinforced plastic, with some magnesium and aluminium to make it as light as possible and keep the weight below 1,490 kg. The interior is said to be a glimpse of what most future Porsche sports car cabins will look like. The centre console rises up towards the front and has a touch screen.
When the Porsche 918 Spyder will arrive in the UAE and GCC is still not known. For more information on other Porsche models in Dubai and Abu Dhabi, check out the Porsche buyer guide.