Child car-safety seat usage in detail

It is a given that most people do not use child-safety seats while driving with their kids in the GCC. It has mostly to do with the cultural mindset that will be hard to overcome in the short term, although the cost of child seats can also be a deterrent. When I was a kid growing up in Dubai, I rode in the back seat of my budget-minded father's craptastic 1988 Honda Civic, with a broken rear-door latch that used to fling the door open on occasion at highway speeds. In the front seat, my mother refused to belt up until it became law. The funny part is, I used to buckle up in the back seat anyway, even if with 1980s lap belts, because it seemed 'fun.' And let's not talk about my vacations in Bangladesh, of the day-long journeys my mother made me endure in my uncle's rusting 1980 Toyota Starlet, sharing the front passenger seat with another kid, sometimes on an adult's lap, all with no seat-belts. People in Asia and the Middle East have hardly changed since those days. Now there are these fancy child-safety seats to worry about. Did you know that there are four types of safety seats for various ages? And that it might become law soon to use them?
The Health Authority of Abu Dhabi (HAAD) as well as the Road and Transport Authority of Dubai (RTA) have launched a road safety initiative in a bid to raise awareness of the importance of, among other issues, child-safety seats. We learned some interesting facts at the press conference.
According to a study conducted by the UAE University in 2008, 98% of children travelling in a car were not restrained and 23% of children travelled in the front seat, which is actually illegal in the UAE for children below the age of 10. In the same study, on average only 29% of drivers wore seat belts, probably because there are many morons who still think it is "uncool" to wear one.
According to HAAD, 454 people, including 44 children, died of road traffic injuries in Abu Dhabi in 2009. Abu Dhabi apparently has one of the world's highest rates of road death, at an incidence of 20.2 deaths per 100,000 population in 2009. The RTA says Dubai's rate lingers at around 14 deaths per 100,000, probably due to stricter traffic enforcement.
According to a survey of specifically BMW customers, over 70% of drivers travel with their children or their families in the GCC. However, 37% admitted that they did not use seat-belts all the time in the front, while 86% do not use them all the time in the back seat. As anyone will tell you, buckling up in the back seat is the quickest way to taunts and insults from retarded friends, but I do it sometimes anyway when I don't trust the overconfident driver, especially at media driving events.
The BMW survey also reveals that 37% confessed their children didn't use seat-belts at all, let alone safety seats. In fact, most admitted to holding their children in their arms as a passenger, which is always a nice display of the "natural selection" theory on local roads.
The variations of child-safety seats available are designed to protect kids' soft bones and small bodies at different ages. Here are the different options: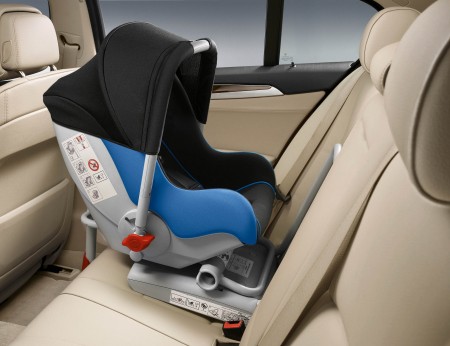 Rear-facing Infant Car Seat – Designed for infants under the age of 1 year, they provide the best protection until the infant is both one year of age and weighs at least 13 kg.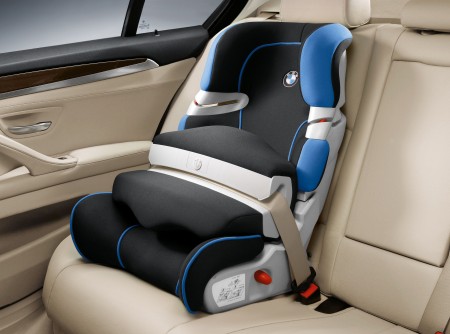 Child Safety Seat – Targeting toddlers aged 1-4 years, they secure your child and spread the crash forces over a wide area. This seat should last until either the child's weight exceeds 18 kg or it grows too tall for the seat.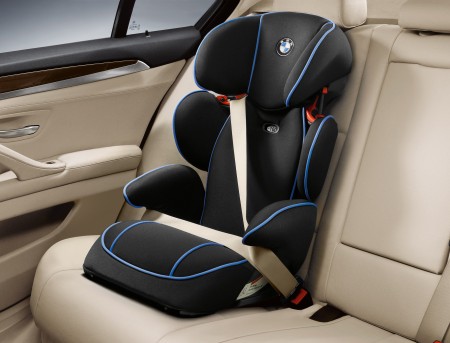 Booster Seat – Made for small children aged 4-6 years, it works by raising the child to the correct height for the car's adult seat-belt to work properly. It has a seat back that can provide additional protection in the event of a side impact. The booster seat should be used until the child is approximately 145 cm tall.

Booster Cushion – The final option before your child transitions to the regular three-point seat-belt, and is designed for children aged 6-11 years that weigh from 22 to 36 kg. Some manufacturers are now producing backs that cover the full 15 to 36 kg range.
Some parents give excuses that their kids forcefully refuse to belt up. Well, stop being such a phussy and smack them upside the head when no one's watching. They'll probably dump you in a nursing home when you're old anyway.
There is talk that child-safety seats will become law in the UAE soon. If you have kids, this should be a safe starting guide when you go shopping for seats.