Red Bull's Webber wins 2010 British F1 GP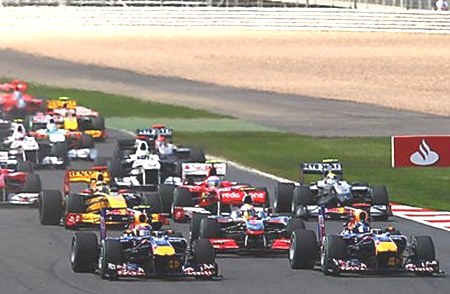 While Spain defeated Holland in the FIFA World Cup, Mark Webber dominated this weekend's British Grand Prix from the start, rebuilding his lead after a safety-car period that allowed team mate Sebastian Vettel to get back in the game after a disastrous first corner had seen the German go off track after a light brush with McLaren's Lewis Hamilton. The puncture that he sustained dropped him to the tail of the field.
Hamilton challenged Webber mightily on that first lap, but it was soon clear that only a major drama could take a richly deserved success away from the Australian. He was in a class of his own, as was the indefatigable Hamilton who maintained his world championship lead with a gutsy run to second.
As Vettel had to make a pit stop and switched to hard tyres at the end of the lap, Renault's Robert Kubica ran in third place ahead Mercedes GP's Nico Rosberg and Fernando Alonso, whose brush with Ferrari team mate Felipe Massa on the run through Copse left the Brazilian to a frustrating afternoon after he, too, stopped for fresh rubber first time around.
When Kubica's Renault suffered a rare retirement, Rosberg was always in play for the final podium slot, but after a great start and a long first stint on the soft Bridgestones, McLaren's Jenson Button was able to stay within a second of him all the way home.
The crucial safety-car period came on Lap 28 after Adrian Sutil hit the back of Pedro de la Rosa's BMW Sauber on the pit straight, leaving debris on the track. That proved to be Vettel's lifeline. Gradually he made his way up the order, passing fellow countrymen Nico Hulkenberg in the Williams and Mercedes GP's Michael Schumacher until he came behind Sutil. The Force India driver kept him at bay lap after lap as Vettel struggled on increasingly worn tyres, but finally he made it through after a robust move resulted in a minor collision, with both able to continue.
But this was Webber's day, and he was seven seconds ahead of Hamilton before he wound things down to take the flag 1.3s to the good. Hamilton was in turn 20s ahead of Rosberg and Button. Behind them, Rubens Barrichello and Kamui Kobayashi drove great races to fifth and sixth for Williams and BMW Sauber respectively. Behind Vettel, an angry Sutil was eighth ahead of Schumacher, who just contained Hulkenberg's challenge to the end.
It was a disastrous day for Ferrari, as Alonso got it wrong again by passing Kubica at Club on the 17th lap after running wide into the right-hand section and cutting in ahead of the Renault. Had he surrendered the place all would have been well and he would have been in a position later to challenge for third; instead his resultant drive-through penalty coincided with the safety-car period, dropping him from fourth to 15th. For many laps he was unable to find a way past Vitantonio Liuzzi's Force India, and when he finally made it they touched, necessitating a late stop for a fresh set of tyres.
Thus, as Liuzzi, Toro Rosso's Sebastien Buemi and Renault's Vitaly Petrov filled the 11th to 13th places, Alonso had to be content with 14th ahead of Massa, who also needed a late stop for tyres after surviving a spin. The two fastest laps were zero consolation for the troubled Scuderia.
Jarno Trulli's 16th place secured the new team honours for Lotus, after Timo Glock's Virgin had separated the Italian's T127 from team mate Heikki Kovalainen's for much of the race. In the end Glock took 18th from the HRTs of Karun Chandhok and Sakon Yamamoto, but team mate Lucas di Grassi fell prey to hydraulic problems.
Toro Rosso's Jaime Alguersuari had a good race for a long time after a long opening stint took him as high as sixth, before ending up in the gravel late on thanks to a brake problem. De la Rosa also failed to finish after his rear wing delaminated further on the Hangar Straight.
Some will fear Webber's victory, and some harsh words afterwards, may have destabilised relations within Red Bull. They still trail McLaren, with 246 points to their 278. Ferrari are trailing with 165, while Mercedes have 126.
In the drivers' stakes Hamilton still leads, with 145 points to Button's 133, Webber's 128 and Vettel's 121.