Chevrolet Volt may eventually come to the UAE

General Motors has announced that selected Chevrolet dealers in the United States have begun taking customer orders for the 2011 Chevrolet Volt, the first mass-production electric vehicle with extended-range capability. Following the U.S. introduction, the Volt will go on sale in global markets starting with Europe and China in 2011. A few will also be sent to the GCC for hot-weather testing to see if they are viable for sale in the UAE.
In the U.S., the Volt will be available for US$ 41,000 (Dhs 150,000), but the U.S. government offers a "tax credit" of up to US$ 7,500 to green vehicle buyers, which brings down the actual U.S. price to US$ 33,500 (Dhs 123,000).
Chevrolet will offer a lease program on the Volt with a monthly payment as low as US$ 350 (Dhs 1,284) for 36 months with US$ 2,500 (Dhs 9,175) due at lease signing, including a security deposit. Customer deliveries of the Chevrolet Volt are scheduled to begin in launch markets late this year, with initial production limited, but later bumping up to 45,000 units for 2012.
The Chevrolet Volt is the only electric vehicle on the market that can operate under a full range of climates and driving conditions without limitations or concern about being stranded by a depleted battery. It is powered most of the time by a 111 kW electric motor, equivalent to 149 hp and 370 Nm of torque. A small 1.4-litre petrol engine linked to a 53 kW (71 hp) generator takes over once the battery is depleted to power the motor. Top speed for this front-wheel-drive 4-seater is estimated at 190 kph, with 0-100 kph in about 9 seconds on full charge.
The Volt has a total driving range of more than 500 km and is powered by electricity at all times. For up to the first 60 km, the Volt drives using electricity stored in its 16-kWh lithium-ion battery. When the Volt's battery runs low, a range-extending engine/generator seamlessly operates to extend the driving range another 450 km on a full tank of gas.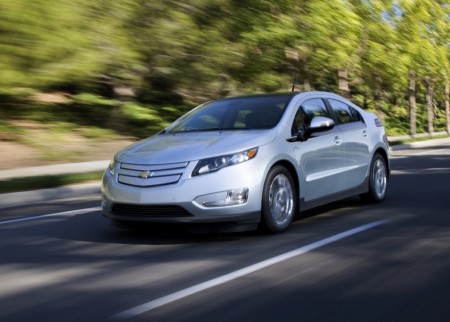 While the Chevrolet Volt will come standard with a 120-volt charge cord in the U.S. that will provide owners with the ability to charge their Volt directly from a standard home electrical outlet, a 240-volt charging station can also be installed at home. The Volt's 16-kWh lithium-ion battery is covered by a transferable warranty for eight years or 160,000 km.
The 2011 Chevrolet Volt has a standard seven-inch touchscreen navigation and an energy-efficient Bose premium audio system. The Volt also has an array of standard safety features, including eight airbags and StabiliTrak electronic stability control with Traction Control. The Volt is constructed of 80% high-strength steel for additional safety and protection.
General Motors Middle East will be receiving Volt vehicles to test their performance and reliability in the hot climate conditions of the region shortly after the launch of Volt in the United States. Based on the outcome of those tests, GM Middle East will make a decision as to whether the Volt will be sold through GM's retail network in the Middle East. A few years ago, the Volt wouldn't have made sense in the UAE, but after recent announcements to bump up petrol prices to international levels for the poor local oil companies, this car might actually have a market here, although not in neighboring countries such as Saudi Arabia, Qatar and Oman where petrol is still subsidised.