First drive: Chinese MG 550 1.8T 2011 in Dubai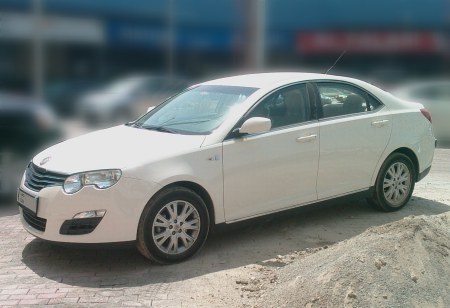 While we were trolling around in Dubai looking for a midsize sedan to buy, we came across this attractive compact car, fully registered, and driven by staff from Arabian Automobiles, who happen to be the local dealers for Nissan, Infiniti and Renault here. On closer inspection, "SAIC" badges revealed its Chinese origins. It was also badged as an MG 550 1.8T. Those who keep track of such things will know that Chinese carmaker SAIC now owns the MG brand as well as some bits of Rover. On further pestering, the "owner" told us that Arabian Automobiles has handed out a bunch of these cars to staff members a couple of months ago, and plan to start selling them in the UAE once showrooms are ready. We also tied him up, threw him in the boot and took the car for an exclusive mini test-drive!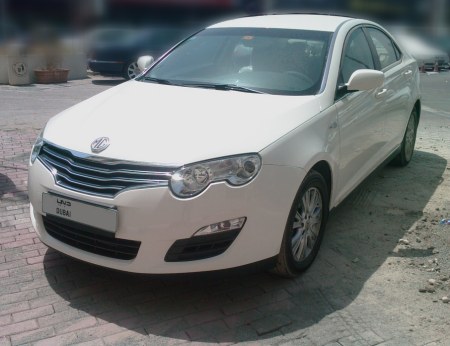 Our research tells us that this compact sedan is already on sale in China as a Roewe 550, built by the Shanghai Automotive Industry Corporation. The 1.8T hints at the 1.8-litre turbocharged 4-cylinder engine under the bonnet, good for 160 hp as well as 214 Nm of torque from only 2500 rpm, mated to a 5-speed automatic and front-wheel-drive.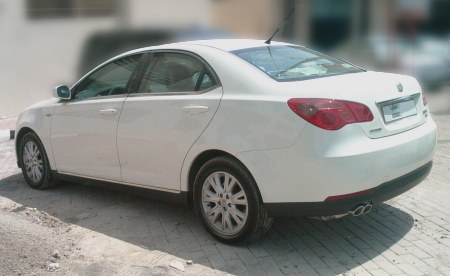 This car will be rebadged as an MG in the GCC, since SAIC owns the legendary British MG nameplate now. Incidentally, this car is also based on a shortened Rover 75 platform. If anyone remembers, Al Tayer Motors used to sell the Rover 75 in the UAE earlier in this decade until Rover went bankrupt, back when BMW owned MG-Rover.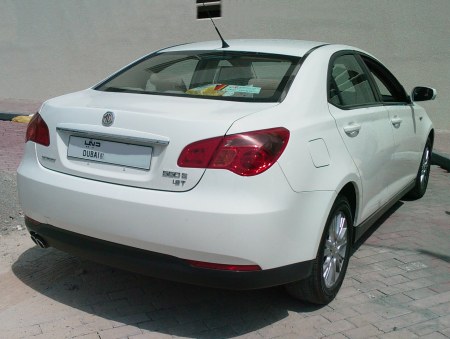 The car truly is attractive, with a hint of "premium" VW, only better. The front end is refreshingly original, and hides the Rover-derived engine. The rims are 16-inch alloys with 215/55 tyres.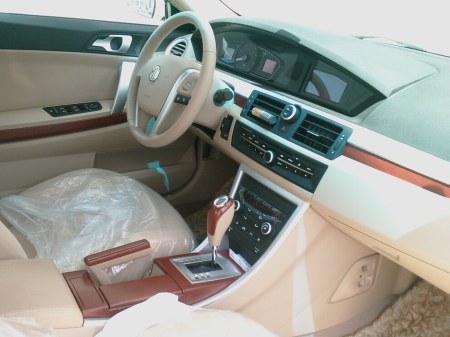 The interior is downright stunning, especially since we hear it will compete in the economy compact class. The black upper dash and door bits are firm "soft-touch" materials, while the fake wood and hard beige bits make up a cabin that feels almost like a BMW.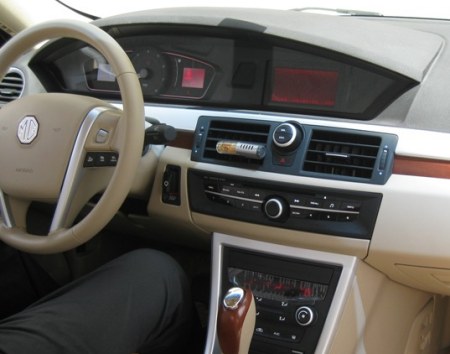 Everything seemed firmly in place, although we did find excess plastic bits left over from the moulding process inside the central cubby, the only quality flaw that hints at its humble origins. There may or may not be more quality glitches, but our hostage incessantly screaming in the boot forced us to hurry up our test.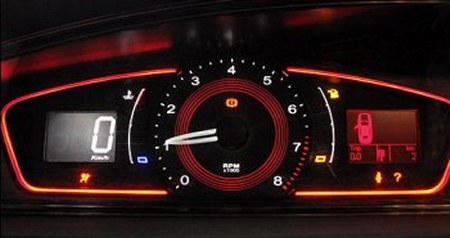 Space is about expected for a car in this class, with no surprises in terms of rear legroom. The luggage boot is pretty big though, so our hostage had enough room to breathe. The a/c also worked fairly well in the summer afternoon. And the gauge cluster is rather cool.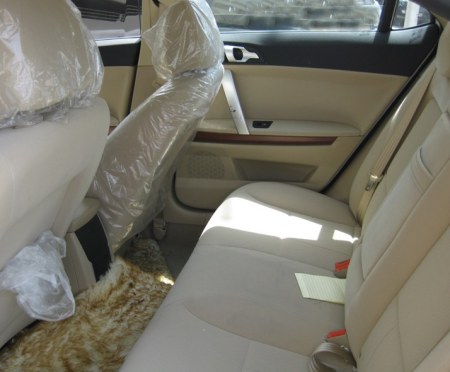 We only went for one round around the block. The engine has a good low-end kick that makes it feel quicker than most economy cars, thanks to the turbo, although it is by no means a rocket. It'll likely still take 10 seconds for the 0-100 kph run, but it'll sound really awesome doing it, with the engine emitting a pleasant raspy note.
The ride and handling seemed fine too. There wasn't much body roll or bounciness to speak of, definitely more like a Ford Focus than a Toyota Corolla, although the turning circle seemed particularly large. Brakes stop the car when stomped on, but the pedal feel isn't perfectly linear. We can't comment on cabin noise because the driver-side window didn't go all the way up due to some glitch.
A launch date hasn't been set yet, and the price hasn't been fixed either, but estimates of Dhs 55,000 are floating around. If quality is not looked upon with a microscope, a car like this could easily sell as a VW, and we expect reliability to be about the same as a VW too. Whether it will sell as an MG is another question altogether. The guy in the boot had no opinion on it either way.