Infiniti M37 and M56 2011 launched in the UAE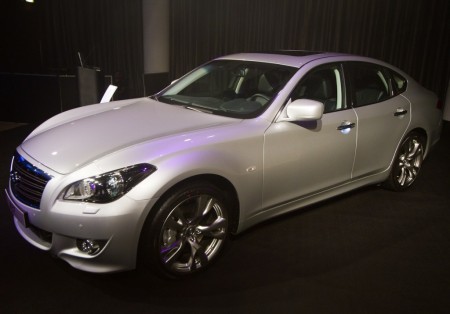 Arabian Automobiles launched the all-new 2011 Infiniti M flagship sedans this week, at a media party in Dubai. They also confirmed that a unique new showroom dedicated to the Infiniti brand is now under construction on Sheikh Zayed Road.
The addition of the new M sedans follows an intensive period of new product launches for the Japanese luxury brand following last month's introduction of the all-new Infiniti QX flagship SUV and the stylish Infiniti G37 Convertible model in March 2010.
The 2011 Infiniti M will be offered in M37 and M56 model designations when it goes on sale at UAE showrooms this month. The M37 features a 328 hp 3.7-litre V6 engine and an all-new 402 hp 5.6-litre V8, both replacing the M35 and the M45 of old. Both the M37 and M56 engines feature Infiniti's advanced VVEL (Variable Valve Event & Lift) system and all models are equipped with a standard 7-speed automatic transmission. The M56 engine also utilises direct injection "DIG" technology. Those with sharp eyes will notice that the V6 is down 2 hp and the V8 is down 18 hp compared to the U.S. version. This is due to GCC-specific tuning thanks to the crappy fuel quality in some countries of this region.
All M37 and M56 models here come in rear-wheel-drive form and in a choice of grade levels. The M37 can be specified in three different grades – 'Excellence', 'Luxury' and 'Sport' – while the M56 is available in two grades – 'Luxury' and 'Sport. Even the base M37 'Excellence' grade comes equipped to a very high standard of specification. The 'Sport' grade M37 and M56 models have a number of exterior and interior cosmetic enhancements as well as better brakes, bigger 20-inch wheels, magnesium paddle shifters and Infiniti's 4-Wheel Active Steer (4 WAS) system.
Pricing starts at a competitive Dhs 184,000 and goes all the way up to Dhs 239,000, making it intensely better value than German or even Japanese competitors in this segment. The cars are being displayed at the 2010 Sharjah Auto Show.
Photos by Faisal Khatib.