Ford Racing reveals Mustang 302S and Cobra Jet race cars

Ford Racing, the racing performance arm of the American carmaker, has revealed two race-ready versions of the 2011 Ford Mustang. Seemingly catering to two different crowds, the first release if the Mustang Boss 302S for the racetrack, and the second is the Mustang Cobra Jet for the drag strip. Neither of these cars will be found at your local dealer.
The 2012 Ford Mustang Boss 302S is the latest variant of the Boss, fitting in between the Boss 302 Laguna Seca and the Boss 302R race car that competes in the U.S. Grand-Am. The Boss 302S will feature a stock transmission, clutch and flywheel mated to the Boss 302 5.0-litre engine, good for 440 hp. Items like a six-point roll cage, Recaro HANS Pro Racer seat, a fully adjustable suspension system, Brembo race brake system, massive front splitter and an adjustable carbon-fibre rear wing are all standard. U.S. pricing is set at the equivalent of Dhs 290,000, and only 50 will be available from the Ford Racing Performance Parts catalog, although parts should also be available individually.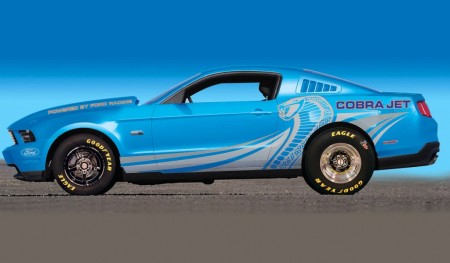 The 2012 Ford Mustang Cobra Jet gets an updated version of the GT500's supercharged 5.4-litre V8 and modified suspension, low-drag racing brakes, black anodised wheels and a set of Goodyear racing slicks. The latest Cobra Jet will also come with all of the features of the earlier 2010 version, including a full race-prepared automatic transmission, drag race-specific shocks and springs, manual steering and brakes, certified rollcage, and an Aeromotive return-style fuel system with boot-mounted fuel cell. Base U.S. pricing starts at the equivalent of Dhs 338,000, with a loaded Cobra Jet coming in at Dhs 382,000. Again limited to 50 units, it will be available through the Ford Racing Performance Parts catalog, and parts will even be sold individually for those who want to build their own version.