First drive: Cadillac CTS-V Coupe 2011 in the UAE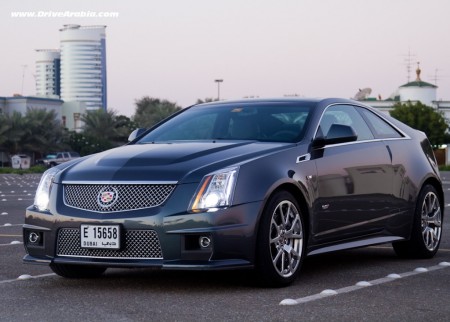 The 2011 Cadillac CTS Coupe is probably the most eye-catching car built by the General's luxury arm since the tail-finned chrome barges of the 1960s. The fact that we snagged the V-series version of the coupe simply adds flame to the proverbial fire. The story is that we skipped the Lebanon launch event for the CTS Coupe in September, so we were promised an early look at the car when it became available for tests here. We suspect that, after losing two CTS-V sedans to retarded journalists, GM is a bit wary of handing over their expensive hypercar to amateurs now, so we got this CTS-V Coupe for a day only.
Their plan worked, because we didn't have time to do much with the car, but we can give you our first impressions. It is a bit obvious though, that this thing can only impress whoever sees it in the flesh.
It is hard to ignore that massive butt, and it looked rather awkward in early photos. But in reality, the entire look works, in a weird-yet-cool Star Trek sort of way. The high rear end is especially pointy, with centre-mounted dual exhaust tips and LED lamps. The front end pretty much shares its face with the CTS-V sedan. Cues unique to the coupe include frameless doors and button-operated door handles.
The interior is straight out of the CTS-V, with leather-stitched dash and door panels, soft-touch trim on most surfaces, and even optional wood trim, with chrome and piano-black plastics making up the smaller trim bits. It is all put together well, although one or two small pieces may feel a bit flimsy.
Tech-wise, there isn't much to write home about. Other than the nifty pop-up touchscreen navigation/stereo screen, everything else is fairly standard fare. There is the usual cruise control, keyless start, HID headlights, basic rear camera and moonroof, but no adaptive distance control, blind-spot monitoring, night-vision or other gimmicks. We couldn't even find a Bluetooth phone.
The aggressively-bolstered seats are rather firm, intent on being more sporty than comfy, but this being a "V" car, that's hard to argue with. Surprisingly, while rear access is obviously tight, legroom back there is enough for adults, even if they have to be careful with their heads. Cadillac even went further to cater to rear passengers by providing two exposed cup-holders, soft-touch and leather padding on the side panels, and even rear a/c vents, with a spacious luggage boot as well. You won't find such luxuries in a GT-R.
Speaking of the GT-R, keep in mind that the CTS-V actually has way more horsepower than Godzilla. While we didn't do any measured performance tests this time, we can safely say that, with 556 hp and 747 Nm on tap, the CTS-V Coupe is fast. Very fast. Insanely fast.
The supercharged 6.2-litre V8 in our tester was mated to a 6-speed automatic, manually-shiftable using buttons on the back of the steering wheel. It wasn't the most responsive nor the most satisfying system, so we barely used it, considering the automatic mode did the job well by itself. However, Cadillac is the only manufacturer we can think of that also offers a true 6-speed manual in this class of cars.
Unlike the sedan we tested before, this more-focused car creates no drama. The tyres are fresher, so the car takes off at a touch of the throttle without wheelspin. And it grips corners so hard, we felt supremely confident around speedy curves. There was no obvious body roll. We ended up chasing other speeding sports sedans around off-ramps, catching up rather easily, and the tyres were still way below their limits. We didn't manage a squeak out of the rubbers around any corners, as we usually do when testing more feeble cars around the city's various curvy roads.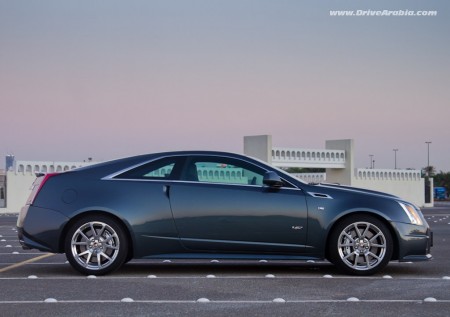 Our relatively-moderate playfulness still netted a fuel consumption figure of around 18 litres/100 km, so this isn't the car to frugally commute to work in every day. It is decently comfortable, with computer-controlled air suspension and what not, but it still rides a bit firm and lets above-average levels of road noise in for a "luxury" car.
But if anything, we'd still call the CTS-V Coupe a supercar in a suit. If you have the nuts for it, the CTS-V Coupe can chase down any typical Ferrari or Lamborghini, given the skill level of their typical owners, while carrying a couple of your friends in relative luxury. All that murderous capability for less than the price of a BMW M3? This Cadillac is a future classic.
Read the 2010 Cadillac CTS-V sedan review or check out full specifications in the Cadillac CTS buyer guide.
Photos by Faisal Khatib.