So we got a 2011 Honda Accord V6 Coupe

Looks like we're possibly the first people in the UAE to review the updated 2011 Honda Accord V6 Coupe, just in time for the first days of the rainy season. The car isn't all that different from the one that debuted two years ago, but it is still a satisfying drive and gets some much-needed tech.
Changes to the handsome exterior amount to new bumpers, front grille and wheels. It looks like the body-kit option of the previous edition is not available any more.
The big rear sports new tail lamps, and nothing else new. Dual exhaust outlets and a lip spoiler hint that this is a V6 ride.
The interior has soft-touch surfaces as far as the hand can reach, although further top areas of the dash and below-eyeline regions are hard plastic. Upgrades for 2011 include a cover for the compartment in front of the shifter and the optional navigation system controlled via the big dial and buttons on the centre-console. Also new are USB and AUX ports under the centre armrest, Bluetooth phone buttons on the steering wheel and optional paddle shifters. But there is still no trip computer to tell fuel economy.
The leathery front seats are comfortable, moderately-bolstered, and power-adjustable for the driver. Space is great, and it almost feels just like driving the Accord sedan of course.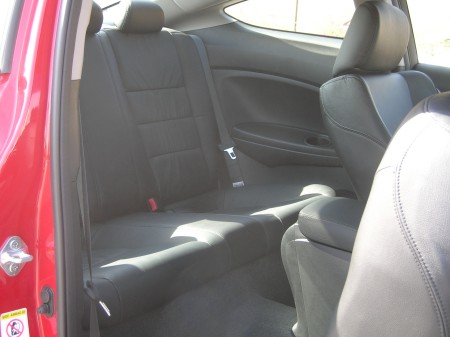 For a coupe, the rear seats offer rather good legroom, although entry is obviously tight. Rear passengers even get a cup-holder each.
The luggage boot is also very spacious for a coupe, although goose-neck hinges and a one-piece folding seatback limits practicality compared to a sedan.
The Accord coupe isn't just a chopped-down version of the Accord sedan. Aside from the completely unique bodywork, it seems the suspension tuning and steering feel are very different from its four-door counterpart, which we will also be driving soon. More in the full review.