Ford Focus Electric 2012 hatchback revealed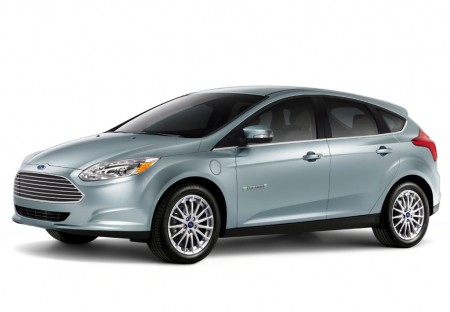 Ford recently showed off its first-ever fully electric car, called the Ford Focus Electric. It is the first of five electric car models Ford plans to release by 2013 for the North American and European markets. The Focus Electric will be able for customers by the end of 2011.
The 2012 Focus Electric is powered by a 100-kilowatt electric motor with a 23-kWh battery, good for 123 hp and 245 Nm of peak torque. So it is nowhere near as fast as the Aston Martin nose would suggest.
The Focus Electric platform is shared by the gasoline and diesel-powered Focus models. Its all-electric powertrain and single-speed transmission provides a top speed of 136 kph. It will offer a mile-per-gallon equivalent better than Chevrolet Volt and competitive with other battery electric vehicles. A full recharge is expected to take three to four hours at home with the 240-volt charge station which is half the charge time of the electric Nissan Leaf. Range is said to be around 160 km.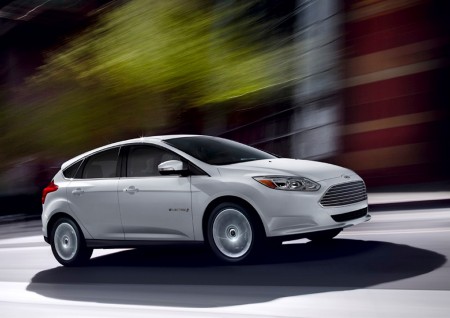 Focus Electric offers a host of standard safety and security features including six airbags and electronic traction control, along with hands-free SYNC telephone connectivity and MyKey for North America. Extensive eco-friendly materials, such as bio-foam seat cushions and recycled fabrics also are featured in the vehicle. Other standard features on Ford Focus Electric include MyFord Touch driver connect system, 15-spoke 17-inch aluminum wheels, a 60/40 split rear bench seat, push button start, audio system with nine speakers, satellite radio and voice-activated navigation system.
The MyFord Touch driver connect system is a new value charging feature powered by Microsoft and Ford also offers a smartphone app called MyFord Mobile that helps plug-in owners control their vehicles remotely.
Focus Electric owners will be provided with a suite of driver information systems – on-board and off-board – designed to help them manage the recharge process, manage the most eco-friendly route on-board, monitor battery state of charge and maximize energy efficiency to optimize their driving range. Among these tools, the MyFord Touch driver connect technology offers innovative presentation of vehicle information, such as battery state of charge, distance to charge point, the corresponding range budget and expected range margin. The system's MyView feature allows drivers to access even more vehicle data including the electrical demands of vehicle accessories such as air conditioning, which can impact driving range.
While the regular 2012 Focus will come to the GCC, it looks like the electric version is not slated for Middle East release.
Keep track of UAE updates in the Ford Focus buyer guide.