Comparo: Ford Mustang GT vs Dodge Challenger SRT8 vs Chevrolet Camaro SS

The 2011 Ford Mustang GT, the 2010 Dodge Challenger and the 2010 Chevrolet Camaro SS all have three things in common. All three are retro-styled Americans, all three are V8-powered muscle cars, and all three have more than 400 horses. Each. This comparo has been a long time coming. Everyone else has already done their armchair evaluations, simply comparing manufacturer figures, snapping a few photos and calling it a day. It took us a spread of six months to be able to drive all three of these direct competitors. We have neither the time nor the resources to pull in all three cars together. But each of these cars are so memorable that it is possible to recall every one of our test-drives, especially since we were the only ones to record local performance figures in the GCC.
Head-Turning Quotient
1st: The Dodge Challenger SRT8 easily wins this one. Style is subjective, and the Challenger definitely is the most "old" in its design, but since only the expensive SRT8 version is imported to the UAE, there are fewer around, and therefore more people stare and pull out their camera-phones for it.
2nd: The Chevrolet Camaro SS is easily the best interpretation of a retro design brought back to life in the modern world. It blends old and new perfectly, and even sacrifices practicality to achieve that chop-top look. The only reason it turns less heads than the Dodge is because everyone's already seen enough of it, be it in the Transformers movies or in V6 trim around shopping malls.
3rd: The Ford Mustang GT is a very pretty car, but it's been on the market in retro guise since 2005, so even with the facelift, most people have trouble picking out the upgrades over the years.
Room & Board
1st: The Dodge Challenger SRT8 easily has the best interior among the three. While it is also the most boring to look at, the Dodge's leather-upholstered cabin makes the most use of soft-touch materials on the dash and doors, comes with the sportiest seats, is fitted with a touchscreen navigation system, and even has a useable back seat that fits adults! However, the massive boot is largely wasted by a full-size spare tyre.
2nd: The Ford Mustang GT made huge strides in cabin quality with its 2010 facelift, gaining a soft-touch dash with real aluminium trim, colour-changing gauges and supple leather upholstery. Cabin space is good up front, but cramped in the back for all but kids. The boot is shallow but still useful.
3rd: The Chevrolet Camaro SS cabin consists pretty much of hard plastics, with bits of padding for elbows. The leather-upholstered seats, mild mood lighting, multiple gauges and even the overall styling are nice, but a low roof, thick pillars, absolutely useless rear seats and a small boot opening make the Camaro an impractical pain to use for everyday errands.
Tech Talk
1st: The Dodge Challenger SRT8 wins this tech round too, with its touchscreen navigation/multimedia system that includes voice control, Bluetooth phone, USB port and even a hard drive. Our tester even had optional rear parking sensors with camera, remote start, HID headlights, starter button and a strong manual a/c.
2nd: The Ford Mustang GT comes in second with its SYNC multimedia/communications system that includes voice control, USB port and Bluetooth phone. Also available are a panoramic glass roof, colour-changing gauges, rear sequential indicator lamps, strong manual a/c and a rear camera with a display in the overhead mirror. We hear HID headlights are optional, but you still won't get parking sensors, navigation or even a starter button.
3rd: The Chevrolet Camaro SS comes with HID headlights with 'halo' rings, a strong manual a/c, CD changer, USB port, rear parking sensors, sunroof and, well, mood lighting. Nothing else is available.
Angry Acceleration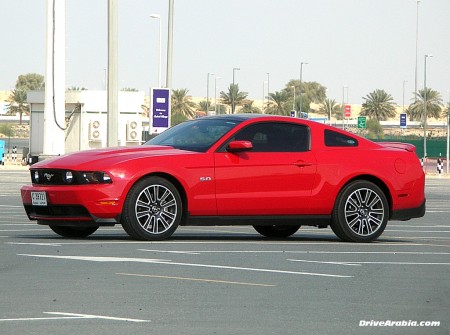 1st: Those who picked style over substance are in for disappointment. The upgraded-for-2011 Ford Mustang GT, with its 412 hp 5.0-litre V8, 528 Nm of torque, and mated to a featureless 6-speed automatic in our tester, has the least juice in this powerful bunch. But we fired off a 0-100 kph time of 5.3 seconds during our late November test, with almost no wheelspin. That is way quicker than the other two, obviously because it also weighs in at "only" 1662 kg.
2nd: The Dodge Challenger SRT8 comes in second with its 425 hp 6.1-litre V8, 569 Nm of torque and basic 5-speed automatic, but only barely. During our October test, we managed a tyre-squealing 0-100 kph run of 6.2 seconds, almost a second off the pace of the Mustang due to its 1895 kg weight, the heaviest in this set.
3rd: The Chevrolet Camaro SS comes with a strong 426 hp 6.2-litre V8 and 569 Nm of torque, similar to the Challenger. However, our tester had a 6-speed manual, weighs 1755 kg and we tested it in early May. We got a screeching 0-100 kph time of 6.3 seconds, the best one in 14 attempts with perfect shifts. To say it is last would be unfair, because we had the most fun with the three-pedal Camaro. And anyway, GM claims the paddle-shiftable automatic Camaro SS is quicker on these short runs, and quicker to 200 kph than even the Ford.
Handle With Care
1st: This is not 1969 any more. Heck, it isn't even 1999 any more. In this day and age, muscle cars are proper sports cars that can keep up with the expensive European stuff. The Ford Mustang GT wins in this group, but only by a millimetre. Like the Camaro, the Mustang grips like glue, handles totally flat and has sharp steering responses. The Mustang also benefits from solid feedback from the controls, better visibility around turns and is generally easier to toss around due to its smaller size and lighter weight, but its rear-axle hop on mid-corner bumps can be unpredictable and takes alert senses to keep in check.
2nd: The Chevrolet Camaro SS offers neck-snapping Brembo brakes, decent steering feedback, sharp responses from the controls, wider tyres for awesome grip and an independent rear suspension that makes it better-planted over bumps. It'd be better than the Mustang were it not for its limited outward visibility, weirdly-shaped steering-wheel rim and vague on-centre steering feel. As such, it is slightly more tedious to take turns in than the Mustang.
3rd: It's not that the Dodge Challenger SRT8 handles badly. It handles rather well on the street actually. It just takes itself less seriously than the other two, erring a little more on the side of comfort than on all-out histrionics. The steering is lighter, offering mild feedback, while the suspension allows some body roll and can feel a bit floaty on bumps, though never truly unsettling.
Cushy Comfort
1st: This one is easy. The Dodge Challenger SRT8 is the most comfortable to drive, with its not-too-firm suspension and airy cabin. Still, it isn't a luxury car by any means, with an always-audible engine and moderate wind noise.
2nd: The Chevrolet Camaro SS is only slightly firmer than the Challenger, which shows how well-tuned the suspension is. Wind noise is surprisingly low, but the limited view out the windows means you will never be at ease driving in tight spaces.
3rd: The Ford Mustang GT rides pretty firmly, while the mild drone of the engine and the moderate wind noise can get tiresome on long trips. But it is bearable if you're used to driving more hardcore sports cars.
Fuel For Thought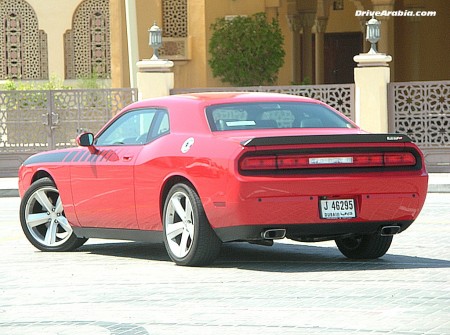 1st: If you love V8 muscle cars and you love trees, you're probably going to want the most fuel-efficient animal of the bunch. Interestingly, the Dodge Challenger SRT8 gave us the best fuel economy, at 14.9 litres/100 km, as shown on the trip computer.
2nd: The Ford Mustang GT showed us a consistent 15 litres/100 km, but the problem is its trip computer doesn't show decimal places. For all we know, it could be burning less. Based on official specs though, this car is supposed to be the thriftiest.
3rd: Our overall figure with the Chevrolet Camaro SS was 16.8 litres/100 km, but we managed to eke out as low as 8.7 litres/100 km with some excruciatingly conservative driving. So maybe this car should be first instead.
Value For Money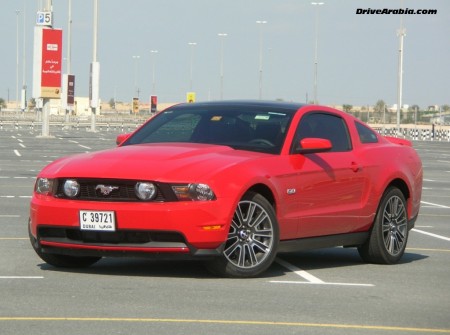 1st: With a base price of Dhs 125,000 up to Dhs 160,000 for our glass-roofed "Premium" model, the Ford Mustang GT is the relative bargain of the bunch. Ironically, it offers the best performance too.
2nd: The Chevrolet Camaro SS can be had for as little as Dhs 160,000, or you can get a car like ours for Dhs 180,000, or pay even more for a factory-kitted monstrosity that costs as much as Dhs 225,000.
3rd: The Dodge Challenger SRT8 is a pricey affair, with a base price of Dhs 200,000 and possibly going up to Dhs 209,000 if you tack on a few options. At least you get a better interior and a larger car.
How To Pick The Winner
Your mind could explode trying to figure out which car is the best one here. The Ford Mustang GT is the obvious choice due to its killer price and serial-killer dynamics. But then we actually loved the celebrity status that the Dodge Challenger SRT8 offers, as well as its everyday practicality. And then there is the Chevrolet Camaro SS, a compromised car that hardly tops any category, but then again, it also balances serious track-ready abilities with proper road-worthy comfort. Would that be the winner? You decide.
Full Road Tests:
2011 Ford Mustang GT
2010 Dodge Challenger SRT8
2010 Chevrolet Camaro SS