Nissan Patrol 2011-2012 with manual gearbox in UAE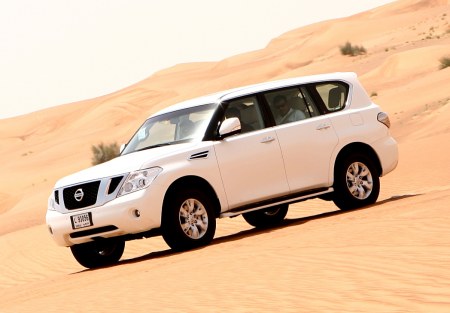 One of our regular readers, M. Hajooni, who usually drops all sorts of spy shots on this site taken by himself, just dropped an email to me with a picture of a 2011-2012 Nissan Patrol interior. The interesting bit is that the interior seems to have a manual gearbox.
Our spy photographer says the manual Nissan Patrol will be offered in base XE and top SE trim, the latter identified by two DVD screens in the headrests as seen in our Infiniti QX56 long-termer. He hasn't provided any more details, but you can always email him yourself!
Update: Our friend says the manual version will come with the 317 hp 5.6-litre V8 only, and the cars are already sitting at the port in Dubai. He also says that the 3-door and pickup versions of the old model will be offered as 2012 models, with the old 4.8-litre inline-6 engine in a few months, likely with a manual gearbox as well.
Keep track of GCC updates in the Nissan Patrol buyer guide.