Long-term update: 2002 Jeep Grand Cherokee facelift

We've been using the 2011 Infiniti QX56 long-termer as our daily driver for the past two months. But if you're wondering whatever happened to our 2002 Jeep Grand Cherokee, it's still around. Late last summer, we took a trip down to Sharjah and bought parts worth Dhs 1300 or so to make it look new again.
Indeed, our Jeep was starting to look old, because all manufacturers nowadays insist on using stupid plucking plastic headlights that turn yellow in a few years, instead of old-school glass ones. We bought our Jeep four years ago with clear headlights as the previous owner had underground parking. We parked it outside, but that was still okay. Even car-washes at Emarat were fine. Then it only took one trip through an EPPCO automatic car-wash to truly pluck up the headlights. Who knows what soap they use. Avoid them like the plague.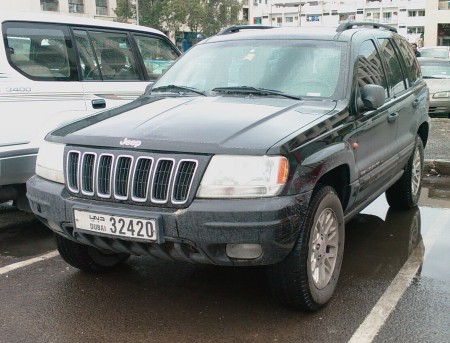 So the headlights had been foggy and yellow for the past two years, both inside and outside, and made worse every time it rained. Detailing only cleaned up the outside. Also, the tail-light bulbs kept coming loose regularly, and the monthly ritual of tightening them was pissing us off. And then the tailgate started falling on our heads because the hydraulic struts were dying.
So after two years of driving blind and battered, we finally took a trip to Sharjah for cheap aftermarket parts. We bought two aftermarket headlights for Dhs 160 each, two aftermarket tail lamps for Dhs 120 each, two unbranded hydraulic struts for the tailgate and two original struts for the rear glass, all for a grand total of around Dhs 1300. Going to the dealer, these would've cost us at least three times more.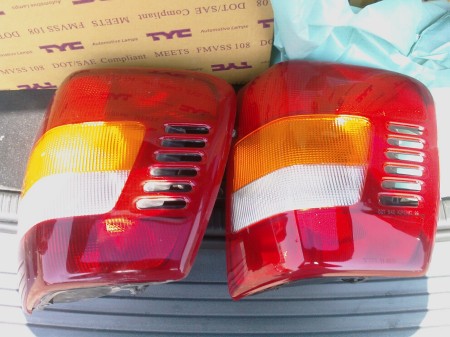 Now you might be thinking these "fake" parts will crap out quickly. But we saw the awful quality of original Chrysler parts, namely the original bonnet struts we bought three years ago that are already dead again and our old tail-lamps that look like they were assembled using Bangladeshi child labour.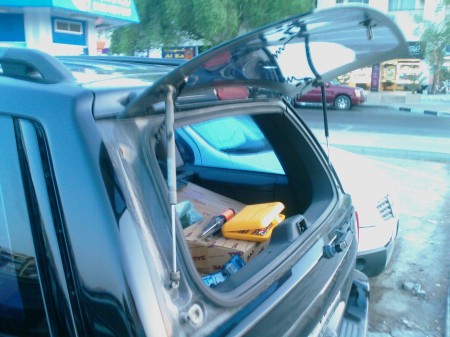 Keep in mind that there is a difference between aftermarket parts and counterfeit parts. Our aftermarket "fake" parts had their own (non-Chrysler) branded boxes but looked just like the original Chrysler "Mopar" originals in quality. Counterfeit parts are ones that try to pass themselves off as originals. Sadly, aftermarket rear-glass struts were not available so we bought originals from the same store. Those were sourced from the Jeep dealer in Abu Dhabi, where parts are cheaper than Dubai. Go figure.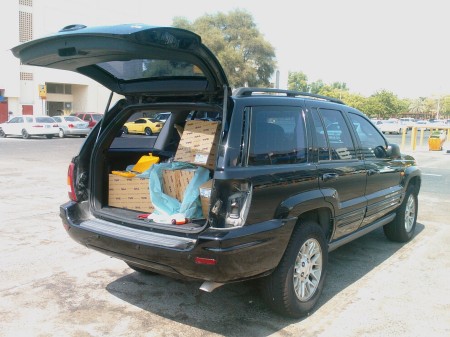 We installed most of the parts ourselves, and paid Dhs 50 to some ghetto garage to install the rest after we got bored and sweaty. Not a bad investment to make a 9-year-old car look new again.
We also went in for a semi-major dealer service in Dubai at around 137,000 km that cost us around Dhs 975. We also asked for the brake fluid and wipers to be changed, which ballooned the cost to Dhs 1400.
We also bought four new Goodyear 245/65 tyres and an alignment for Dhs 3050. These are semi-offroad ones instead of the road-biased Michelins we had before, so they squeal more around tight turns and feel ever-so-slightly bumpier on the road. Ironically, we used the Michelins for the past four years with two nails stuck in one of them. No wonder one of them had a slow leak. It is commendable though that it didn't burst.
The Saudi-assembled AC Delco battery also crapped out after two years, and we put in a new one for Dhs 460 this January.
So now we have a Jeep that looks fresher with glistening headlights, working tail lights, springy tailgate, safe tyres, new battery and brakes that feel much better.
The only problems left are the sunroof glass that is now jammed due to non-use, and bonnet struts that have crapped out again after only three years. All the "expensive" problems we've noted here are all either maintenance items or age-related issues that plague even Japanese cars. Aside from these non-essentials, the Jeep runs perfectly with proper maintenance. We appreciate the lack of major mechanical faults.
Original Mileage When Bought: 117,500 km
Latest Mileage To Date: 140,500 km
Latest Average Fuel Economy: 17.0 litres/100 km
Cost of Latest Problems: Dhs 1350
Cost of Latest Maintenance: Dhs 4910

Total Non-Fuel Running Cost Since Bought: Dhs 12915