Arabian Automobiles opens largest used car lot in UAE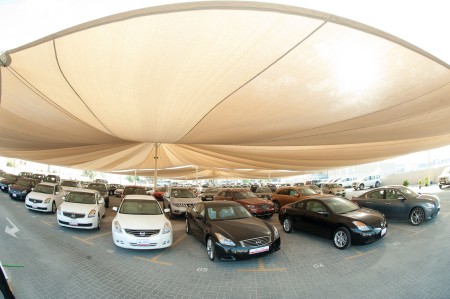 After recently introducing the first "manufacturer-approved Japanese brand certified pre-owned program" for Nissan in the UAE, Arabian Automobiles has opened the UAE's largest used cars facility in a media event held yesterday. The company is the sole dealer for Nissan, Infiniti, Renault, ZNA and MG in Dubai and the Northern Emirates, and they have chosen to get into the used car business in a big way with this 7000 square-metre facility.
During the inauguration, the CEO of Arabian Automobiles claimed that their existing used car business grew by more than 40% last year, no doubt thanks to the recession. With the recent introduction of the Nissan Certified Pre-Owned program and the new facility on Sheikh Zayed Road housing cars from various brands, Arabian Automobiles is apparently preparing for the time when the new-car-to-used-car sales ratio will shift to a 1:1 ratio a few years down the road. According to their stats, current used car sales via showrooms are estimated to be around 100,000 a year, while new cars sold in the UAE numbered 223,000 last year.
This new used-car facility is one of several existing ones by Arabian Automobiles in the UAE. We purchased our "new" 2009 Renault Safrane long-termer from their outfit in the Aweer Used Car Market.