Mercedes-Benz C63 AMG Coupe 2012 debuts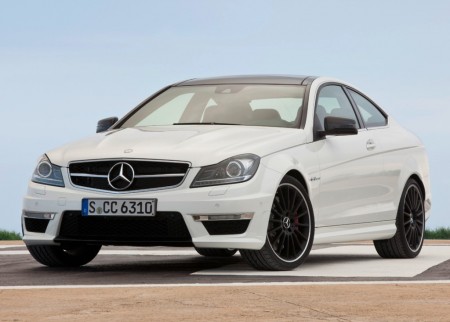 The AMG version of the 2012 Mercedes-Benz C-Class Coupe has debuted. We have to say, it doesn't look as monstrous as the outgoing C-Class AMG model, but it will still have that insane 6.2-litre V8 engine.
Mated to their new 7-speed transmission, the 6.2-litre engine produces 451 horsepower and if you can wriggle out a bit more money, you can get the AMG Development pack and horsepower increases to 481 hp. That should help to get to 0-100 kph in 4.5 seconds. Of course to complement the performance, stiffer suspension and huge brakes are installed on the C63.
The exterior gets sportier bumpers, rims, exhaust tips and a bulging bonnet to let pedestrians know not to cross in front of. Inside, sports seats, sports steering wheel and carbon fibre bits add to the flavour. New safety equipment have also been added to aid the driver to overcome blindspots, and alert the driver if he suddenly feels like a quick snooze while driving.
The 2012 Mercedes-Benz C63 AMG Coupe should arrive in the UAE, Saudi Arabia, Qatar, Bahrain and other GCC countries by the end of the year.
Keep track of latest prices and updates in the Mercedes-Benz C-Class buyer guide.