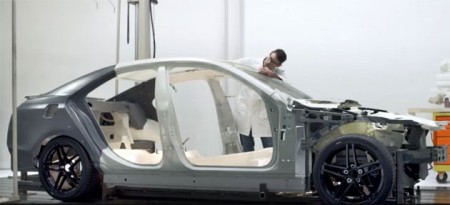 Cadillac, the premium luxury brand of General Motors, will enter the compact car segment; with the all-new model "ATS". Designed to take on premium competition like the Mercedes C-class and BMW 3 series, the ATS is based on the new Alpha platform, which will simultaneously underpin the next generation Chevrolet Camaro.
The rear-wheel drive ATS will have a shorter wheelbase compared to its elder sibling, the CTS, while borrowing a large number of cues from the latter.
Word is the ATS will be available with two direct-injection engines, namely a 330 hp 3.6-litre V6 and a turbo-charged 270 hp 2.0-litre inline-4. Both are attached to a GM Hydramatic 8-speed transmission.
Cadillac will also release a sports variant called ATS-V. This model will feature a 470 hp 6.2 V8 engine, a modified version of the engine used in the present Chevrolet Corvette. The transmission will be a 6-speed GM Hydramatic.
There are plans to release sedan, wagon, coupe and convertible forms. Currently, production of the ATS sedan is slated to start in July of 2012, followed by the coupe in July of 2013. So it should reach Saudi Arabia, UAE, Qatar and other Middle East countries by the end of next year.
Cadillacs aren't very popular in the GCC, but introducing cheaper and smaller models like the ATS could break old perceptions.