Geely Emgrand EC718 caught testing in Dubai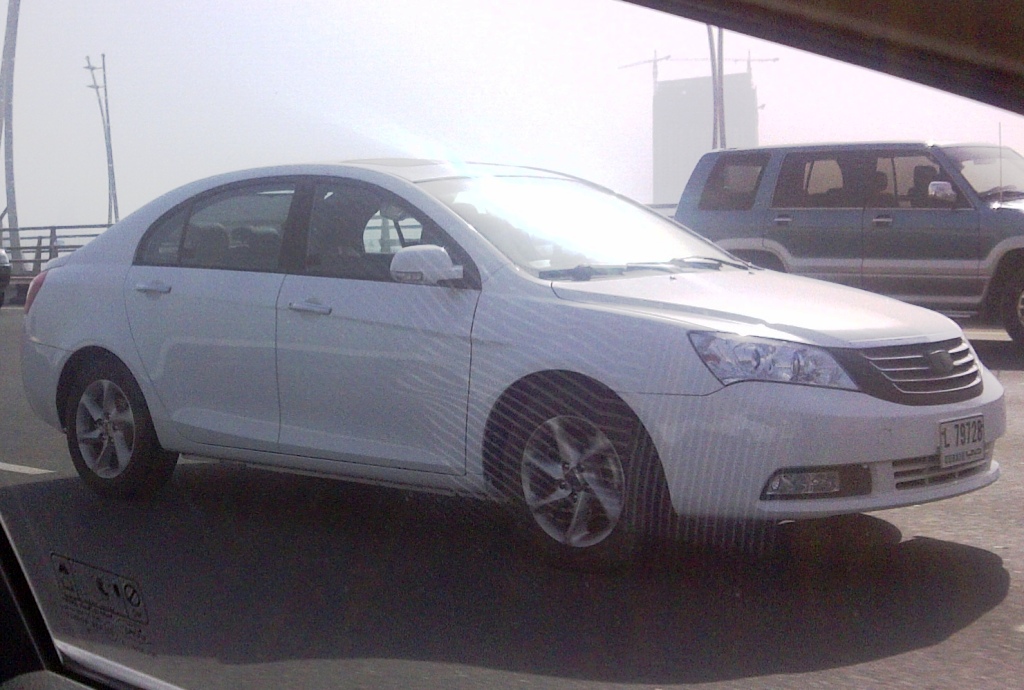 So I was driving along Garhoud Bridge in Dubai a few days ago, and a seemingly mid-size sedan bearing light camouflage caught my attention. Like any other car enthusiast I was eager to find out what it was and soon got involved in a brief chase with the unknown driver of the unknown car. Though the chase did not help me get a clue of what brand the car possibly belonged to, I succeeded in taking a few pictures of the car. And as it turned out, what I chased was a Geely Emgrand EC718.
The Geely Emgrand EC718 is probably the Chinese manufacturer's first product that boasts an in-house design and independent engineering, contrary to their routine feat of imitating cars rolling from almost every car manufacturer on this planet – right from Toyota to Rolls Royce. They classify the car as a competitor to Corolla, which makes it a player in the compact car segment despite the near mid-size dimensions. The Emgrand EC718 is powered by Geely's own self-developed 1.8-litre D-CVVT gasoline engine good for about 137 hp at 6200 rpm and 172 Nm torque at 4200 rpm.
The regular folks in our forums have already seen the pictures of the car and some even guessed the origins of the car right. But none could identify the car until from nowhere appeared our internet guru-cum-chief editor Mashfique with findings suggesting that it was a Dacia X-52 prototype. However, he also discovered that the model is already being sold as a Geely in some parts of the world. And this 'never-heard-before' relationship between Romanian Dacia and Chinese Geely is what prompted me to do some further research on this car.
The hot-weather testing in Dubai hints at Geely's intentions of launching the Emgrand in GCC. Prices will be cheaper than a lawn-mover. And their relationship with Dacia? Well, it was some weird joke by some loser in some part of the world who was jobless enough to photoshop an official teaser of the Emgrand, replacing the Geely badge on the front grille with that of Dacia.