First drive: Kia Cerato Koup 2011 in Dubai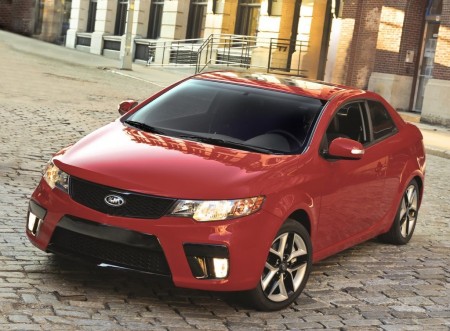 We got a chance to briefly test-drive the 2011 Kia Cerato Koup at the Dubai dealership when we went in as potential customers. Oh my, from where to where the Kias have come – what a car the Cerato Koup is! For the first time ever, I found a vehicle that has its roots in Asia while having a pure European character – rivalling some of the European marques!
All I did was a 10-minute test-drive though I could drive it my way, thanks to the silent dealer representative, though he was as scared as a pussy cat. The car appears to have good low-end kick unlike the Honda Civic, and is quick off the line. The 2.0-litre engine powering the Cerato Koup is rated for 154 hp and 194 Nm, and unlike the Honda's 1.8-litre, this need not be hammered all the way to the floor to get all those horses to life. It is mated to a 4-speed tiptronic transmission that shifts smoothly and does the job. Manual gear-shifts seemed to lag a bit and is not responsive enough – leaving the transmission in auto seemed to be the best option. The engine is refined and noise is muffled well enough.
And the delight of the day for me was Kia's handling! Never ever in my wildest of dreams have I expected a Kia to have such surprising levels of cornering abilities with negligible body roll – add to it a precise steering that gives a fair amount of feedback. The suspension is very well tuned to be European-ish in character; and when combined with 215/45 low-profile tyres wrapping 17-inch alloys, the Koup soaks bumps and potholes without much harshness while giving some sporty feeling and allowing some great levels of cornering; though not really close to the segment leader, the Ford Focus, this one can put many cars to shame and can make a lot of Civic lovers frown and go furious! Once over the limit, the car safely understeers. In case of any amateur stupidity, there is the electronic stability nanny to keep things in check.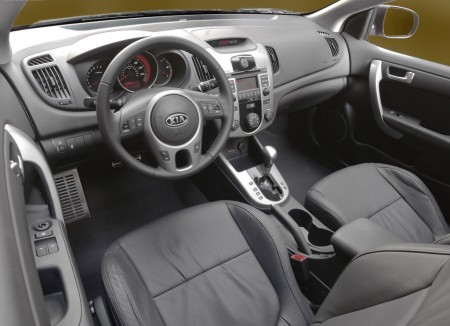 Interior space is good; there is good legroom for the front occupants while the rear can seat a couple of 5-foot-8 adults without any fuss. The headroom is kind of low, and this can make getting in and out of the car slightly tedious. Interior quality is generally very good; though I could not do a detailed inspection I found that the top dash is covered with soft-touch materials; the centre console comes in cheaper plastics. Seats were dressed in faux leather and were fairly comfortable. I did not switch on the stereo, but it appeared to be the same unit which we found in the Hyundai Sonata. It also has mood lighting, TCS and ESP, 6 airbags and a good a/c that seemed to tackle well a warm February afternoon.
My overall first impression about the car is so great that I have no words to explain it. Right from styling to performance to value-for-money, the car is a deal at Dhs 72,000 in the UAE. For now I would say, if not for the brand image, the Cerato Koup would be a popular car among young drivers.