Economy test: 2012 Ford Explorer around the UAE

We were offered a second round with the 2012 Ford Explorer to address some issues we had discovered with our previous abused grey-coloured test vehicle. So while we've already amended our original review to reflect that, we were now still left with a brand-new blue-coloured Explorer Limited for two days. So we did what we always do with extra time — conduct one of our legendary Economy Tests.
As anyone familiar with our Economy Tests will know, it first started out when we managed to coax a Chevy Camaro SS to burn petrol at the same rate as a Nissan Tiida. Since then we've amended our test to reflect more realistic situations with a variety of vehicles.
So we reset the trip computer and took off from Karama in Dubai. After taking two minutes to come out of town traffic, we smoothly merged with the motorway to 80 kph, hit a few off-ramps and then hit the road to Al Ain, varying speeds between 90 kph and 110 kph, depending on traffic, while occasionally hitting 120 kph for a few seconds at a time to overtake. This was on a hot 40-degrees morning in September, with the auto a/c set at 20-degrees Celsius.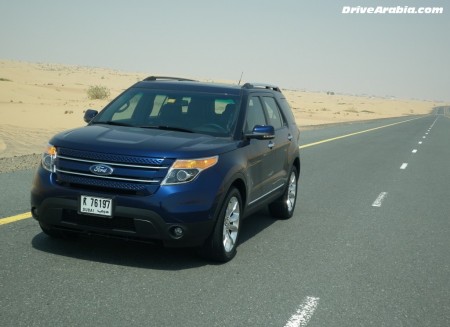 As always, the trick to bettering fuel economy is to accelerate and brake smoothly, while avoiding heavy-traffic areas as much as you can. We drove all the way to some desert-safari area on the Sharjah border, via the Bypass Road. While we didn't do any offroading, we did leave the engine on during our photo-shoot to simulate brief periods of standstill traffic.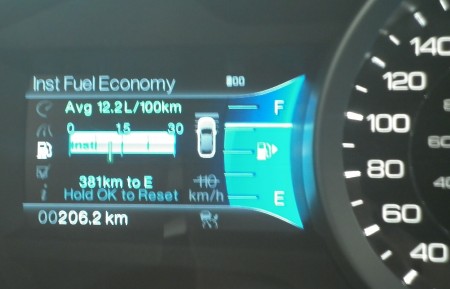 So while our original test-drive with the grey Ford Explorer netted a fuel consumption figure of 13.9 litres/100 km, our drive with this blue one into the middle of nowhere and back resulted in a figure of 12.2 litres/100 km. That represents fuel savings of 12% overall, without even driving too slowly and without turning off the a/c. That rate's about as much as what many people burn with a car like the 2.4-litre Toyota Camry on a routine commute with a haphazard driving style. Not bad for an SUV that is larger than the Toyota Land Cruiser.