So we got a 2012 Volkswagen Golf GTI

It's funny that we've been testing a string of VWs for the past two months, but delayed driving till now the one VW that everyone's been requesting us to test. This here is the Volkswagen Golf GTI.
This "Mk6" edition of the Golf GTI debuted in 2010, and was itself a minor facelift of the "Mk5" Golf GTI that came in 2004. Of course, many of the changes are under the skin, namely a 10 hp bump in power, extra gears in its DSG transmission, fancy adaptive suspension and dual exhaust tips.
In a hatchback this big, practicality is a given. This car is so conservative, and yet, there are special touches such as the rear logo that pops out as a rear camera as well as a boot handle. The unique wheels and LED lights are eye-catchers too, in an otherwise boring design.
The interior remains the best in class, at least in terms of materials, even if the design itself is utterly staid. It's the same as in the pricier VW Golf R.
As we said, the Golf GTI is very practical. Our car even came with luggage, namely a whole bag of branded number-plate holders, that we thought about giving out at the 4th DriveArabia Meet which we held around this car.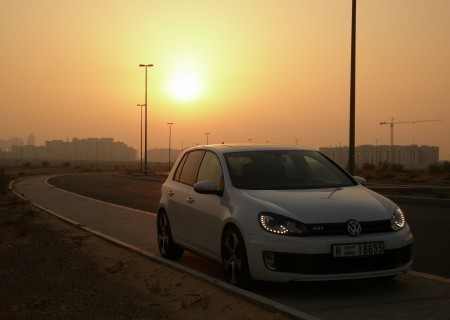 The VW Golf GTI certainly is a superb car. It may not win the horsepower wars, but the driving pleasure it offers is more than a lot of other cars that cost more too. More in the full review.