Nissan GT-R oozes out more power for 2012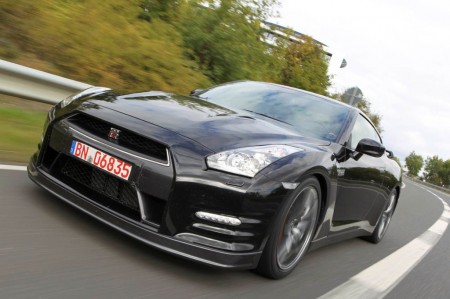 The Nissan GT-R is one sports car that never ceases to evolve. As much as it is loved by the masses, Nissan ensures that the GT-R is constantly being fine-tuned to constantly keep up with the constantly-changing supercar competition, thereby preserving the rich racing heritage created by its legendary predecessors. For 2012, the all-new GT-R resembles its first iteration only in the looks department. Under the shell however, things have changed.
The first change the GT-R sports is a revised 3.8-litre V6 twin-turbo motor with extra oomph. The power figures have now climbed to a prodigious 542 hp in European trim (545 hp in USA, 550 hp in Japan), with 632 Nm of torque between 3200 and 5800 rpm. With those figures, the new GT-R can whiz past 100 kph in a claimed 2.7 seconds, and can even shear off its own lap-times on the Nürburgring by upto an incredible 10 seconds. The increased power output is celebrated alongside improved fuel economy. Other perfections to the racing veins of the Nissan GT-R include a revised transmission, reinforced framework, asymmetric suspension settings in right-hand-drive models to compensate for driver's weight, optional carbon ceramic brakes for exceptional stopping power, and usage of differential oil generally used in racing competitions.
Also available for right-hand-drive models is the "For Track Pack" for track enthusiasts, which removes the rear seats for shaving some weight off the GT-R, and revises the suspension settings while featuring extra brake cooling for both front and rear brakes, aluminium-alloy wheels from Nissan GT-R Spec-V with black quartz chrome colour coating, and an exclusive front spoiler with carbon air duct. Other upgrades include a rear view camera, BOSE Precision Sound System woofers and some fancy blue lighting inside the tachometer.
Set to debut at the upcoming Tokyo Motor Show, the new Nissan GT-R is not far from reaching the Japanese, GCC and European markets as a 2012 model, with the U.S. calling it a 2013 model. We expect it to be launched in the UAE, Saudi Arabia and other Middle East countries by later next year.