VW Passat Alltrack 4WD wagon to debut at Tokyo Motor Show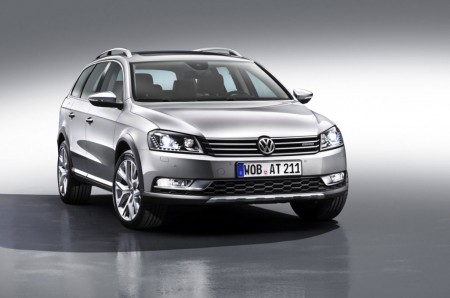 The Volkswagen Passat is all set to receive a new sibling dubbed the Alltrack. The VW Passat Alltrack, based on the Passat Estate wagon which is popular in European nations, will debut at the upcoming Tokyo Motor Show, of all places.
Featuring a 4MOTION four-wheel-drive system in its arsenal, complemented by a higher centre of gravity and underbelly protection panels made out of stainless steel, the VW Passat Alltrack is a Passat Estate wagon with added ruggedness and capabilities to handle rough terrains. Adding to the rugged looks are matte chrome roof rails, window surrounds, grille and exterior mirror casings. Standard equipment will include Alcantara upholstery, dual-zone electronic climate control, cruise control, tyre pressure monitoring system, MDI iPod connectivity, Bluetooth and 18-inch alloys. Powering the VW Passat Alltrack will be a 2.0-litre turbocharged diesel engine packing 138 hp when mated to a 6-speed manual transmission, and 167 hp when mated to a DSG dual-clutch transmission.
The 4MOTION four-wheel-drive system drives the front wheels by default and can transfer all the power to the rear wheels if needed. The VW Passat Alltrack also features an off-road mode, activated by a dashboard-mounted button, which incorporates hill-descent assist and electronic differential locks, and alters the ABS function for better operation on loose surfaces. In vehicles equipped with DSG dual-clutch transmission, engaging off-road mode results in altered shift patterns with higher shift points and no automatic upshifts in manual mode.
The new VW Passat Alltrack will go on sale in Europe during mid of 2012. Expect none to reach here in the UAE, Saudi Arabia and GCC.