First drive: 2012 Volkswagen Passat Ecofuel CNG in Dubai
It's rather ironic that anyone who's been to the Sub-continent, or even maybe Europe, has some sort of experience with Compressed-Natural-Gas cars. And yet, we being the largest automotive guide in the GCC, had never driven a CNG-powered car before. The fact that we are in the GCC might be the reason. But there is a real push by certain entities to bring in vehicles with cleaner emissions here, and Volkswagen threw their hat in the ring with the VW Passat Ecofuel, a car that is already offered in Europe, which can run on both natural gas and petrol. Mind you, this dual-fuel test car that we drove isn't for sale here yet. That said, not even the regular 2012 Passat is on sale here yet.
Of course, this is the European-built 2012 Passat, but the new sedan that will debut in the UAE soon will be the slightly-larger American-built one. There isn't any particular reason that VW brought in an Estate wagon version here either, other that possibly to portray it as an ideal fleet vehicle. Unlike the ghetto-converted CNG cars of third-world countries, this factory-stock Passat, available as a sedan or wagon, has no visible extra tank taking up space in the boot. It is a completely normal car. The only giveaway are the two fuel inlets under the single fuel door, only seen when refueling. There are two fuel gauges as well.
The new Passat is a rather plainly-designed car, with no flamboyant design cues whatsoever. That corporate front-end looks better at night, when the pretty LED lamps in the headlights get to light up. It's even got turning fog-lamps, 17-inch alloys and lots of metallic trimmings, so this is a properly premium car, even if those tacked-on Emirates Gas stickers threw off most drivers who cut us off on the road.
Inside, it has the exact same dashboard and door panels as our VW Passat CC, complete with the brushed aluminium trim and the navigation screen. Ironically, while this Ecofuel loses features like the adjustable suspension and sports seats, it gains adaptive cruise control, lane-departure warning and active lane-assist instead, where the car beeps and then gives a slight nudge to the steering if it feels you're drifting out of lane. Other features include smart keyless entry, one-touch folding rear seats, panoramic glass roof, dual-zone auto a/c and a power tailgate. Of course, Volkswagens can be optioned up any way you like. To top it off, cabin space is excellent, and the huge boot offers more space than even the VW Touareg.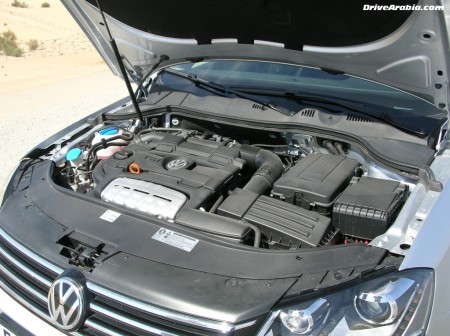 But enough of the regular stuff. The Ecofuel is powered by a 1.4-litre 4-cylinder that is both turbocharged and supercharged, mated to a 7-speed dual-clutch automanual and front-wheel-drive. It makes 150 hp at 5500 rpm and 220 Nm of torque from 1500 rpm to 4500 rpm. We can attest to the fact that the car never feels overly slow, and it is an exceptionally-quiet and smooth highway cruiser. It isn't much of a handler due to its soft suspension tuning, light steering and average brakes, but it is no worse than the average Japanese midsizer. The rear camera and large windows even make it easy to park, or it can automatically parallel-park for you.
We were given the car with an empty CNG tank, so we filled up from an ADNOC station in Abu Dhabi, after we heard that they actually had CNG refuelling pumps, surprisingly. Of course, the attendants themselves had a hard time figuring out their own pump, but in the end, we paid Dhs 1.32 per cubic-metre. Our trip computer showed 9.6 cubic-metres/100 km of burn on average, dipping to 9.2 cubic-metres/100 km on the highway. We filled up with Dhs 30 worth of gas, and it lasted for around 230 km, so the trip computer was more or less accurate. Mind you, that's almost a full tank.
When the CNG runs out, the car automatically switches to the petrol tank, so there are no worries over running out of gas with no stations around. The switchover is seamless, with only a minor twitch at highway speeds signalling the event. Over mixed driving, we got 8.5 litres/100 km, as indicated. With "Special 95" petrol at Dhs 1.72 per litre, Dhs 30 would buy us a range of 205 km. So using CNG actually saves money, even if we did maybe two-thirds of the claimed 800 km range!
But what about performance? Surely it is slower in CNG mode than in petrol mode? Not at all. We tested 0-100 kph in CNG mode, wheelspin and all, managing a time of 9.7 seconds. Once the CNG ran out, we tested it again, running on petrol, and we again got exactly the same 9.7 seconds as before.
So there you have it — a car that is eco-friendly due to its cleaner-burning CNG mode, and cheaper to run as well. In fact, it won some sort of award as the "Greenest Car in Europe", beating out the ubiquitous Toyota Prius hybrid. Too bad you can't buy one here yet, for obvious reasons.