First drive: 2013 Aston Martin Vanquish in the UAE

A never-mentioned fact about us is that, back in early 2005, a month or two after we started this website, the first test car we officially got offered was an Aston Martin DB9. What's even worse is that, just as I sat in that car to drive off, we found out that none of us in the crew were eligible to drive it, since we were all under 25 at the time and insurance wouldn't cover us. In the end, all I got to see was the fancy door handles and the cool interior with the button-operated gearbox, both giving a sense that the Aston was way ahead of its time. Fast-forward 8 years, and after several years of nagging, we finally got to drive an Aston Martin again, this time the 2013 Vanquish. Odd then, that it still feels like that car I sat in all those years ago.
That's because the Vanquish is still based on that DB9 platform, although it's undergone further enhancements and strengthening since then. The DB9 itself also continues to be sold alongside the Vanquish, with its own set of upgrades. All Aston Martins nowadays look the same, but who's complaining? They all look great.
The Vanquish is far more advanced than the DB9 in some aspects. For one, large parts of the body are made of carbon-fibre, some of which has been left unpainted, such as along the bottom skirts, on the roof and under the boot lid. Some carbon-fibre is even used in the chassis along with aluminium. So the Vanquish is slightly lighter than the DB9, with a little more power as well. But beyond that, the mechanical differences are harder to distinguish at a glance, especially since we haven't actually driven a DB9 yet.
The interior feels very classical, with modern bits thrown in. The top-to-bottom leather, with quilted-pattern seats and panel stitches, gives off a real Bentley vibe — more previous-gen Arnage than current-gen Flying Spur — while the "P-R-N-D" gear buttons, certain touch-operated buttons and the knob-controlled motorised flip-up screen are beyond contemporary. But the setup is awkward to use, and probably won't get easier with familiarity.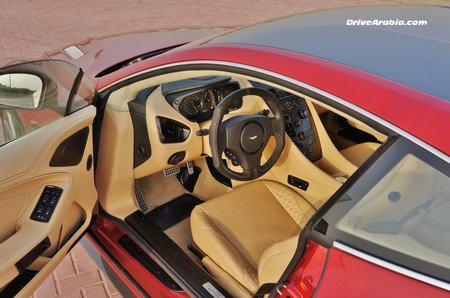 And let's not get started about the weird handbrake, placed on the left side of the driver, and using some sort of pull-and-release movement to work. We couldn't make it work half the time, so we left it alone when parked.
Powered by a 565 hp 6.0-litre V12, there's none of that new-fangled turbo tech. The big motor's hooked up to the rear wheels via a paddle-shiftable 6-speed automatic, instead of some fancy 8-speed dual-clutch doohickey. But is it fast? It certainly feels very fast, with linear power build-up and a whole lot of aural drama. However, the initial kick of torque isn't as jarring as in a turbocharged Bentley, since that 620 Nm only peaks at a high 5,500 rpm. Unfortunately we didn't have the time to run acceleration numbers during our all-too-brief test, although it did have a launch-control setting as well.
Ironically, that "outdated" gearbox and its peripherals actually make this Aston much easier to drive in city traffic than any car with a dual-clutch automatic. Dual-clutch cars are great in theory, but most of them are awful at low speeds, with delayed awkward shifts and random uneven throttle response. On the other hand, the Aston is wonderfully subdued in "Normal" mode, with smooth low-speed power delivery and no untoward jumps, which are things you'd expect from older cars before the days of stupid electronic throttles and complicated auto-manuals. This was comforting, especially when outward visibility was slightly limited from the low driving position, as is the case with any supercar.
The ride is reasonably comfortable as well, with the adaptive suspension soaking up some of the harsher bumps well, but still leaving a level of firmness in there to keep you alert on the highway. You'll stay awake in that cushy seat anyway, since it always stays noisy in the cabin, with road, engine and ambient noises fighting to be heard.
Find some corners and drive it hard though, and its old-fashioned character comes to the fore again. The firm steering offers decent feel, sharp enough but with a touch of on-centre vagueness. The firm brake pedal controls the huge ceramic discs without drama. Long curvy roads are handled with ease, but jump into the sharper curves at moderate speeds, and the rear steps out a bit instead of the understeer we've come to expect from modern cars. The mildly tail-happy nature can feel a bit disconcerting, especially since the rear tyres kick out a little only once in a while when you don't want it to, but the car also steps back in line without much steering input, and without the ESP visibly intervening. Here's one of those times we wish we had access to a race-track to really get it sideways.
The Aston Martin Vanquish feels like a blast from the past, even with all the ultra-modern tech that's gone into it. It's never going to be the ultimate track tool for beating lap-times against GT-Rs and McLarens, but it is surprisingly easy to live with as a rip-roaring daily driver. Even as a GT cruiser with a sporting streak, it's got stiff competition from the likes of Bentley and Rolls-Royce, both of which are more refined and cost the same. Still, it's hard to argue with that styling.