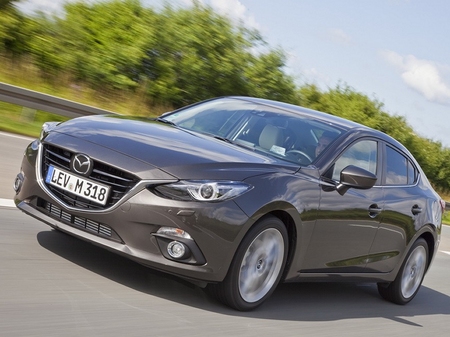 Mazda made its first impressions of the new 3 last week. And it went pretty well with our readers, as many poured in their satisfaction with the new design. However, it was pretty evident that they would soon follow up with the sedan version of the same.
Our source this time is Top Gear Russia, who rather generously revealed the sedan through their website (or leaked them, depending on which side you're on). Anyways, it's pretty evident that if you like the Mazda 6, you should like the Mazda 3 as well, because it takes just about everything from its toothsome big brother, only shrunken into a compact package.
Top Gear's report suggested that they cannot reveal their drive impressions till next month. They however, did reveal the Mazda 3 will come in four trims for the Russian market – Drive, Active, Active+ and Supreme. Three engines are also on the cards for them. From the hatchback reveal, we came to know that there is a 2.0-litre and a 2.5-litre 4-cylinder engine. But those specifications may vary here.
Other than that, all we have to go by are the looks, which we think are even better than the hatch, thanks to a trunk line that provides more balance to that long hood up front.
The Mazda 3 is expected to enter the UAE, Oman, Saudi Arabia and the rest of the GCC later this year. Keep your eyes posted for more details.
Keep track of the latest prices and updates in the Mazda 3 buyer guide.