Long-term update: Jaguar XK a spouse with expensive tastes

Our Jaguar XK has been running fine since we bought it in early summer. Which makes its minor non-mechanical issues rather annoying. The fact that we've covered only 800 km so far makes it doubly so.
Earlier this month, a warning light started flashing in the gauge cluster, letting us know that the turning-with-the-steering headlights had failed. Since that bit was working just fine, we figured we could just get it reset and be done with it. Our car also developed a climate-control issue, right after our previous a/c job, where the vents blow hot air until the car starts moving after start-up, but then cools fine after that, and again we assumed it was some minor sensor issue. A latch to pull the passenger-seat forward, needed for rear-seat access, has also broken.
So off we went to the Dubai dealer again, getting an appointment date in less than a week. After keeping the car for several days after that, they said an electrical module in the left headlight had screwed up, without giving any specifics, so the automatic self-levelling function had stopped working. Also, the a/c condenser had a very minor leak in it, so the system "could not build enough pressure" to start blowing cold air initially.
They said a new left headlight would cost Dhs 7,500, while a condenser replacement would cost Dhs 4,600, after discount. The total bill for both would be a slightly-less Dhs 11,500. It blew our minds for a brief period.
Now, to the service advisor's credit, he said we could skip both the jobs and just live with the warning light and the delayed a/c. Their policy is to replace rather than repair. But we wanted a perfectly-working car. And we weren't in the mood to experiment with independent garages. After all, it's a Jaguar XK, not some ratty old BMW 318i.
So after recovering from the initial shock, we called back and negotiated the bill down to Dhs 10,390. Now here's the funny part — the dealer said they won't start work until we deposited Dhs 5,000 first. We understand that they may have had deadbeat customers before who couldn't pay up, but having to make yet another trip down to the service-centre, after actually agreeing to pay 10 grand for an easy job, isn't exactly a "premium" experience. Maybe set up a bank account so we could wire you the money? Heck, there's no courtesy car either.
Anyway, we went through the hassle, and the job was completed after almost a week. The seat-latch wasn't in stock, so we'll have to go in yet again after the part is shipped in.
So now the car has perfectly-working headlights again, although one is now shinier than the other. The a/c works fine now, but still takes about half-a-minute to really get going, and is eventually freezing cold.
There are a lot of other things you can buy for 10 grand. But if you start thinking in that way, then premium cars aren't for you. An acquaintance of ours replaced the electronic parking brake on his BMW 7-Series for Dhs 22,000. Another tells us the adaptive headlights for his top-spec Mitsubishi Lancer EX cost as much as the one on our Jag, so premium features on an economy car aren't better value either! Even that ratty old BMW 318i would cost just as much to fix such problems at the dealer, so if you really want to splurge on a used luxury car, go big and buy the flagship instead. That's what we did, and for a car like the Jaguar XK, it's more worth it.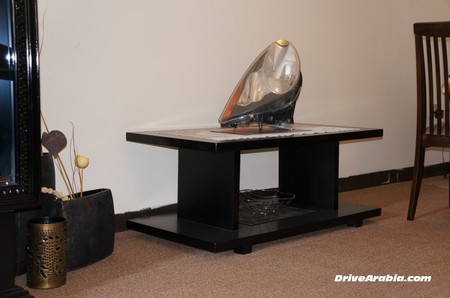 On a side note, we asked for the old headlight back. It's now displayed on a coffee table in our living room. Whenever the wife asks me daily to throw it out, I tell her it's a Dhs 7,500 piece of modern art. No kidding.
Original Mileage When Bought: 99,150 km
Latest Mileage To Date: 99,950 km
Latest Average Fuel Economy: 14.9 litres/100 km
Cost of Latest Problems: Dhs 10390
Cost of Latest Maintenance: Dhs 0

Total Non-Fuel Running Cost Since Bought: Dhs 13604