First drive: 2014 Honda Odyssey in the UAE

The UAE is not a minivan market. Most of the vans trundling around the streets of Dubai are of the commercial variety, ferrying workers to work and tourists to resorts. In the midst of this, Honda has dropped their own minivan — a proper one, built in America and designed for families. While a somewhat popular segment in the States with several players, here in the GCC, the Odyssey finds itself almost alone in the face of a crossover onslaught. Still, Honda is doing well enough with local sales that they've now launched the facelifted 2014 version here, and shipped one to us for a run.
Around in its current form since late 2010, the Honda Odyssey retains its wedge-shaped profile and funky shoulder-line. The only visible changes externally are a slightly-restyled front-end and LED-pipe tail lamps. In Touring spec, it rides on 18-inch wheels and lights up the road with HID headlights, which are a hint that this minivan doesn't come cheap. Starting at Dhs 130,000, the top-spec Touring model we drove comes in at a hefty Dhs 180,000, although this is about as much as any number of midsize crossovers that don't offer as much space.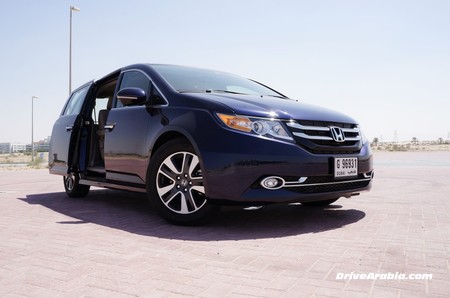 Indeed, it is ridiculously large inside, and it still retains all the flexibility of the 2011 Honda Odyssey, such as the "walkthrough" front seating; the 40:20:40 second-row seats that can lean, slide or fold flat; the 60:40 third-row seats that can lean, fold down or fold flat; and the countless storage cubbies, pockets and cup-holders beyond the huge boot. Even the interesting bits, such as the ability to fit three child-seats in the back and a ring that pops out to hold a garbage bag, are still there.
A lot of the interior panels are hard plastic, but a few strategically-placed paddings soften up the cabin. Being a loaded version, our tester's leather-upholstered interior came with the extra-wide rear DVD/multimedia screen, tri-zone auto a/c, LCD screen, navigation, power front seats, power sliding doors, power tailgate, smart keyless and start, rear camera, cooler box and what not, alongside standard features such as Bluetooth, CD/MP3 stereo, stability control and a full set of airbags. New options for 2014 include the secondary touchscreen to partially control certain multimedia functions, while a new LaneWatch camera gives a video view of your right blindspot when the right indicator is on.
All the new tech works very well, although we did hit a couple of snags with the old tech — the cooler box never seemed to cool, while the power-sliding doors don't operate when you pull the external handle with the engine off so you have to use the remote. Unfortunately the Odyssey's most anticipated feature — the world's first in-car vacuum cleaner — isn't offered in GCC-spec versions.
Mechanically still the same as before, the Odyssey is powered by a 250 hp 3.5-litre V6 straight out of the Honda Pilot. This time, a 6-speed automatic is standard on all grades, unlike before when it was only available on the top model. It's a smooth motor, featuring cylinder-deactivation and noise-cancelling technology, so it never gets noisy under acceleration. We managed a 0-100 kph time of 8.9 seconds on a September afternoon, while fuel consumption is good, as we burned 12.9 litres/100 km of petrol.
You might be surprised to hear that it's sort of entertaining to drive as well. Wide and low compared to most crossovers, the Odyssey can be thrown around as comfortably as, say, a Toyota Camry. It understeers cleanly at the limit, which itself is very attainable by any half-decent driver, but perfectly safe for the masses. Body roll is never overwhelming, but while feedback is mostly non-existent, all the controls, including the brake pedal, respond predictably to inputs.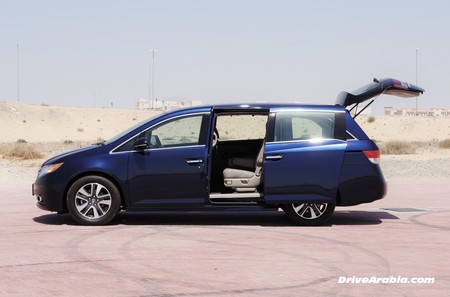 The ride is, shall we say, smooth enough, with the occasional jitter felt on some surfaces. A softer suspension tune would've made it more floaty, but then it would be as awful to drive as a Chevy Suburban. Mind you, the Honda still rides smoother than many 4x4s, while allowing moderate levels of wind noise and very little road noise into the cabin. It is unlikely that you'll ever manage to park it in one smooth move, but the rear camera and sensors should make sure that you never run into your insecure neighbour's aforementioned 'burban.
The Odyssey remains the top choice for an on-road business jet to take on those extended-family outings, assuming you can get over the stigma of driving a minivan. It makes a lot of sense if you really need all that seating capacity.