First drive: 2014 Porsche 911 Turbo Cabriolet in the UAE

How fast do you need your sports car to be? Porsche seems to sell one for every level of speed. If your threshold for velocity is over-the-top on the sanity meter, the 2014 Porsche 911 Turbo is for you.
There's not much to say about this car. The convertible version of the Turbo is still every bit the car you expect it to be. Wider at the butt than a regular 911 as well as sporting a prominent rear wing and more vents, its intentions are clear.
Inside, it's typical Porsche, with rock-hard cabin panels upholstered in premium leather all over. The front seat-bottoms are manually adjusted, while the backrests are powered. The rear seats are as useless as the flimsy cup-holders. The front boot can hold half-a-week's groceries, although it gets hot in there after a drive so don't leave your food in there too long.
The multimedia-navigation system has tiny buttons and the Bluetooth disables your phone when it takes over your SIM, rendering your contact list useless. The stereo is rocking. And the roof open-closing dance can be performed with a button on your key-fob, useful when you want to stuff cargo into the back seat.
With 520 hp on tap from the raucous 3.8-litre flat-6 turbo engine mated to a 7-speed dual-clutch "PDK" automatic and all-wheel-drive, you'd expect it to be fast. And it is. Very, very fast. It supposedly does the 0-100 kph run in 3.2 seconds, and feels like it too. Unlike "budget" exotics like Corvettes and GT-Rs we've driven, Porsches don't seem to suffer from performance issues due to abuse or weather. They always remain fast, without excuses. You can even use "launch control" without any limits, unlike other brands that might void your warranty after a few consecutive tries.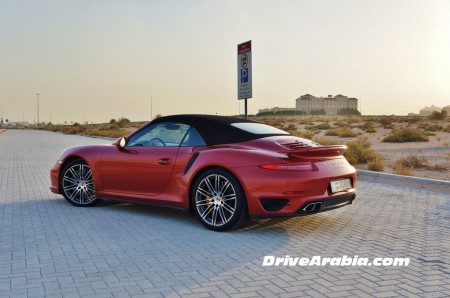 The PDK is quite possibly the best implementation of a dual-clutch gearbox. It feels a lot like a regular automatic at low speeds, without clunking like the GT-R and without jerking like a GTI. At high speeds in manual mode, it still fires off instantaneous shifts like it's supposed to.
Grip levels around corners are outstanding at street speeds, as good as any supercar that costs twice as much. It's one of only a handful of cars that we could not get anywhere near its limits, with absolutely no squeal from the tyres. It just keeps on turning while pushing your spine sideways. The steering and brakes are sharp too, with just about decent feedback.
As for comfort, the Turbo is not a quiet car, with noticeable road noise and a muted grumble at most speeds. It's even louder in the "sport" modes. It also rides a bit on the firm side, so you'll feel every groove on the road surface. However, it is still more comfortable than most cars of its ilk. Both the Nissan GT-R at the low end as well as the McLaren 650S at the high end are far more uncomfortably firm. Of course, you still have to deal with the poor rear visibility, and our car had only rear parking sensors, not a rear camera.
The Turbo dials up the pleasures of a regular 911 and is a testament to what Porsche engineers are capable of. However, at prices starting at Dhs 600,000, it's always going to be a rare sight, and a regular 911 Carrera is more than enough car for the street.
For prices and specs, visit the Porsche 911 buyer guide.