First drive: 2015 Lamborghini Huracan LP610-4 in the UAE
Unlike Ferraris, which have life-cycles as long as Toyotas, Lamborghinis have a much longer shelf-life. The Gallardo ran from 2003 till 2013. Some of its older brothers ran for even longer with minimal changes. The latest entry-level Lamborghini, the Huracan LP610-4, will likely have to remain fresh for the next decade. Which means that, right now, it'd have to be far more advanced than anything else in the market. We checked out a fresh example of the future, right here in Dubai.
There's no reason to discuss the styling — you either love it, or really love it. Underneath is an all-new carbon-fibre and aluminium hybrid structure that's stiffer than before. The edgy body is a mixture of aluminium and composites, all thoroughly modern. We only lament the fact that it's a Lamborghini that doesn't come with "Lambo" doors.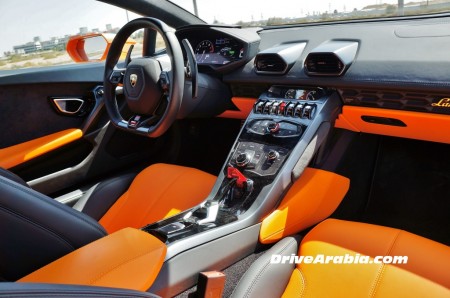 Even with conventional doors, you have to make sure you have enough space to open them, and it's a bit of a stretch to get inside, over the wide sills and into the fixed-height low-slung seats. The cabin is cramped and leather-clad, with futuristic colourful gauges on an LCD screen, a row of toggle-style switches below a second set of digital "virtual" gauges, and a "start" button under a red fighter jet-style flap for no other reason except to play Top Gun in front of your snooty friends. A few of the plastics felt cheap, but otherwise the build quality is tighter than the McLaren 650S. And the ridiculously small boot will not fit your golf-clubs.
Powered by a 602 hp 5.2-litre V10, its 560 Nm of torque is delivered to all four wheels via a 7-speed dual-clutch automatic. It's not a huge leap over the Gallardo's 562 hp drivetrain, but it's a good thing that they've shied away from turbocharging in the name of downsizing. And yet, Lamborghini claims they've managed to reduce fuel consumption, primarily through the use of an engine stop-start system in traffic, which we immediately turned off.
Straight-line performance is blisteringly quick, accompanied by a brutal noise that's close to shattering windows at full throttle, helped along by fast changes by the new Audi-sourced gearbox. However, while the official 0-100 kph time is a claimed 3.2 seconds, it doesn't kick as hard as you'd expect in rolling acceleration while overtaking and such.
To add character for the sake of adding character, the automatic gearbox does not have a "Drive" option. There's just "P" and "M", while tugging one of the paddle-shifters selects first gear to move off. Tugging both paddles makes it go neutral. And "Reverse" is a handle that you yank on. To top it off, the indicator stalk is replaced by a rocker switch on the steering wheel. The driving-mode selector is also on the steering wheel, offering a choice of "Strada," "Sport" and "Corsa," with obvious meanings. We just called them "Loud," "Louder" and "Loudest."
Flinging the Huracan around our makeshift test track on deserted streets, it has predictably high grip, but understeer creeps in earlier than expected, although it's unclear if electronic nannies are the reason, given how seamlessly it comes in. There's also the most random of twitches when going around long corners at triple-digit speeds, as if certain tiny bumps are causing the stiffly-sprung rear to hop. Keep on the power though, and it's all irrelevant.
The throttle response is instant, while the steering firms up nicely at speed, although feedback is decidedly average. The big ceramic brakes offer decent pedal feel, but hard stops were not as strong as some of its rivals, aside from squealing in our tester.
Low-speed inner-city driving proved to be easy enough, since we're used to driving low wide sports cars. While forward visibility is decent, the view out the rear mostly consists of an engine and a distorted glass window, but that can be sorted with well-positioned mirrors and the rear-view camera. Oddly enough, the camera's video is shown in the gauge cluster, so you end up blocking that view if you turn the steering wheel. However, the gearbox isn't too jerky at near-idle speeds, something that is usually characteristic of dual-clutch gearboxes.
Cruising on the highway in "Strada" mode doesn't magically make the car any more civilised. At 120 kph, the engine is still turning over at 3000 rpm, made even louder by limited sound-deadening and an aggressive exhaust, drowning out any road or wind noise that may also be present. And the stiff suspension makes for a bumpy ride on most surfaces. The active suspension doesn't seem to soften up a whole lot compared to "Sport" mode, but the option to raise the front at the press of a button is a handy feature over tall speed-bumps.
The Huracan is about as cookie-cutter as supercars get — very fast, very loud, very flamboyant and very odd in its control placements — and that's no bad thing. In most conditions, it can easily go toe-to-toe with its direct rivals, such as those from McLaren and Ferrari. The only gripe we can see is that some of those rivals are a fair bit cheaper. The Porsche 911 Turbo, the Dodge Viper SRT, the Nissan GT-R and even its own parts-sharing sibling, the Audi R8 V10, offer a more value-packed proposition. Of course, the aura of a Lamborghini goes way beyond just straight-up performance. While all the others are crowd-pullers to varying degrees, the Huracan causes a bigger horde of bystanders to gather around it. That's saying something.
For prices and specs, visit the Lamborghini buyer guide.