First drive: 2015 Mercedes-Benz C 250 in the UAE

The all-new 2015 Mercedes-Benz C-Class is probably the most desirable model in its class at the moment, not least because it looks like a mini S-Class if seen from a distance. We drove the C 250 version for a night, so got a brief look at if there's any substance beneath the skin.
The C 250 seen here is the top version with the AMG kit, barely visible with a black paintjob, and you locally cannot get anything more powerful short of the C 63 AMG, unless you special-order it. But for most purposes, the C250's 2.0-litre turbo motor has more than adequate enough juice.
The engine offers 211 hp with 350 Nm of torque, the latter doing good work from low revs itself, so the car always feels spritely. It's possible to keep the fuel consumption under 10 litres/100 km with a mostly-sedate driving style. The 7-speed automatic gearbox is smooth and shifts smartly, although we wish Mercedes would drop the flimsy column-shifter gimmick.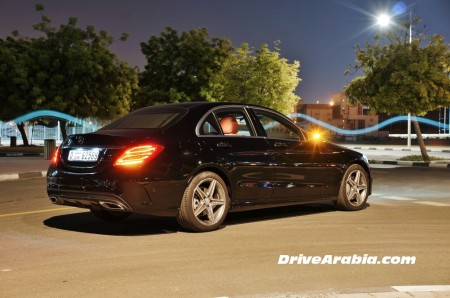 Driving at moderate speeds around the city, the car feels composed with well-tuned suspension. There were no untoward bounces or excessive jitter, just smooth progress all the way with the most minor of interruptions from road imperfections, and hints that it can tackle corners far harder had we pushed it. We're not sure where its unexplored limits lie, but we can report that it rides a fair bit smoother than a BMW 3-Series. It's also very quiet, with only some road noise heard at highway speeds.
The steering is on the light side, even at speed, but with some artificial feedback dialled in, we didn't mind it at all in our casual drive. The brake-pedal feel was linear and confident, but the throttle response has an obvious delay, something that's all too common in many modern drive-by-wire cars.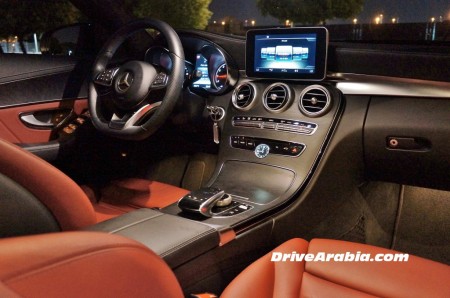 As for interior space, there's certainly more of it than in the outgoing model, with just about adequate space in the back for average-sized adults, althoughvery tall passengers will have issues. Boot space is fairly good under that gooseneck-hinged lid.
Our well-specced tester was also beautifully trimmed inside, with a flowing stitched-leather dashboard matching the leather seats, real metal bits and real unvarnished wood panels. The iPad-looking screen attached to the dash does not retract and looks awkward, but it's big and clear, controlled by various knobs and bobs on the centre-console that we didn't have time to experiment with.
Tech features were random. Our car had a panoramic glass roof, the aforementioned multimedia setup, start-stop fuel-saver system, dual-zone auto a/c with rear vents, rear camera and HID headlights, and yet it only came with a manually-adjusted seat-bottom with power backrests, basic keyless entry and no keyless start. We assume some things are still extra-cost options.
Still, the C 250 felt like a proper Mercedes-Benz. Smooth, quiet and stress-free to drive, it could possibly be one of the best cars in its class, but you have pay a premium for the privilege. As it stands, it is also one of the more expensive cars in its class.
For prices and specs, visit the Mercedes-Benz C-Class buyer guide.