First drive: 2015 Subaru Legacy 2.5 in the UAE
The Subaru Legacy is Subaru's flagship sedan, and has been around since a long time, even if nobody knew. Overhauled for 2015, the Legacy now gets an entirely new design and a new engine choice.
The exterior design of the new Legacy is a love-or-hate thing, with Subaru adopting softer lines and simpler styling cues that borders on being bland. However, the interior looks neat and uncluttered albeit the steering wheel, which has a plethora of buttons for cruise control, Bluetooth, trip computer, and audio functions. All the upper panels throughout the cabin are soft-touch materials, with padded mid-panel inserts in all doors. Hard plastics dominate the lower panels. The fit and finish seems very good.
Our basic tester was decked up with features that puts a few of its competitors to shame. The standard features include a full set of airbags including the knee airbags, cruise control, HID headlights, traction and stability control, brake assist system with brake override, rear camera, 6.2-inch colour display, auto headlamps and auto wipers, 17-inch alloy wheels, Bluetooth, voice recognition and voice control systems, electronic parking brake, and a lot more. In fact, the only few features that distinguished the top trims from the most basic model were only the sunroof, leather interior, SI-Drive driving modes, driver seat memory for two profiles, Harmon Kardon sound system with 12 speakers and 7-inch display, and the available six-cylinder engine choice.
The new Legacy is a bigger car, with lots of headroom and legroom for both front and rear occupants, going head-to-head with its competitors. The boot is spacious too. The seats are amongst the most comfortable ones ever and can be a reason alone to consider buying this car. The interior is fairly quiet, with a bit of wind noise creeping in after 110 kph. The road and engine noises are kept well at bay, with the engine heard only under hard throttle.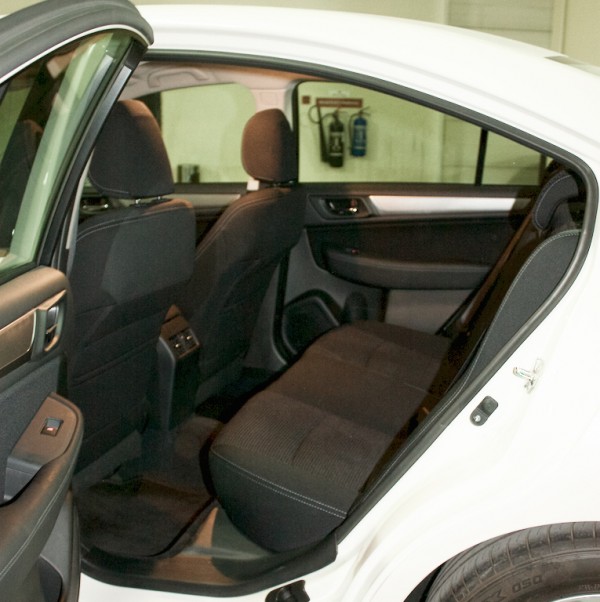 Powering our tester was the 2.5-litre boxer engine, rated for 175 hp and 235 Nm of torque. It is mated to a CVT transmission that, unlike other CVT transmissions, mimics gear ratios and performs fake shifts, rather than holding onto a rev point and crying out loud. Like all other Subarus, the Legacy comes with a "symmetrical" all-wheel-drive system, making the car considerably heavier. In hot July weather, we pulled off a 0-100 kph dash in 10.8 seconds. However, the car picks off fairly quickly from standstill. If power is a concern, consider the top-spec variant with the 3.6-litre 6-cylinder boxer engine packing 262 hp and 350 Nm of torque.
The Legacy is tuned to be more of a comfort cruiser, and that it does well. The suspensions are tuned to be soft enough to smoothen out any road imperfections, without sacrificing handling. Body roll is minimal, and the all-wheel-drive with active torque-vectoring ensures confidence-inspiring cornering levels. At the limit, the car initially understeers, but in an attempt to correct the line of travel, the all-wheel-drive system's reaction results in very mild oversteer for tighter turn-in. In most cases though, right amounts of throttle inputs can bring the car back in line.
The 2015 Subaru Legacy seems like a strong contender in the mid-size segment, and the only car in its class to offer all-wheel-drive. But the real dilemma Subaru faces in this region is poor brand awareness, and if that continues, it'll be a long while before consumers add a Legacy to their shopping list alongside Toyota, Honda and Nissan.
For UAE prices and specs, visit the Subaru buyer guide.
Photos by Vivek Menon.