2018 Porsche Cayenne revealed
The Porsche Cayenne was a car that managed to raise quite a lot of purist eyebrows when it first debuted in 2002. The decision taken by a pure sports-car manufacturer like Porsche to build an SUV was questioned by many, but the Cayenne, over 14 years and 2 generations, answered all their questions with impressive sales and positive reviews. And now, the boffins at Stuttgart have revealed the third generation of the Cayenne with updated looks, new interior and a lower curb weight.
The looks of the new Cayenne builds on its predecessor's aesthetics thus, it is instantly recognizable as a Cayenne. The front grille now has horizontal slits that span the entire width of the car. The sleeker headlights along with the new hood and grill round off the design update at the front. The rear gets a new full-width tail lamp design similar to that of the new Panamera and 911. The overall length of the new Cayenne is 75 mm more than the 2nd generation model but the generous usage of aluminium has slashed 65 kg.
The 2018 Porsche Cayenne is launched in its base and S variants with other variants to follow. The base variant is powered by a turbocharged 3.0-litre V6 that churns out 340 hp and 450 Nm of torque. The S variant gets a 2.9-litre bi-turbo V6 good for 440 hp and 550 Nm. The base Cayenne will run form 0-100 kph in 5.9 seconds, 1.7 seconds better than the predecessor while the Cayenne S will hit 100 kph in 4.9 seconds, half a second quicker than the 2nd gen model.  The top speed of the Cayenne and Cayenne S are 244 kph and 265 kph respectively. Both the versions are fitted with eight-speed automatic gearbox and all-wheel-drive.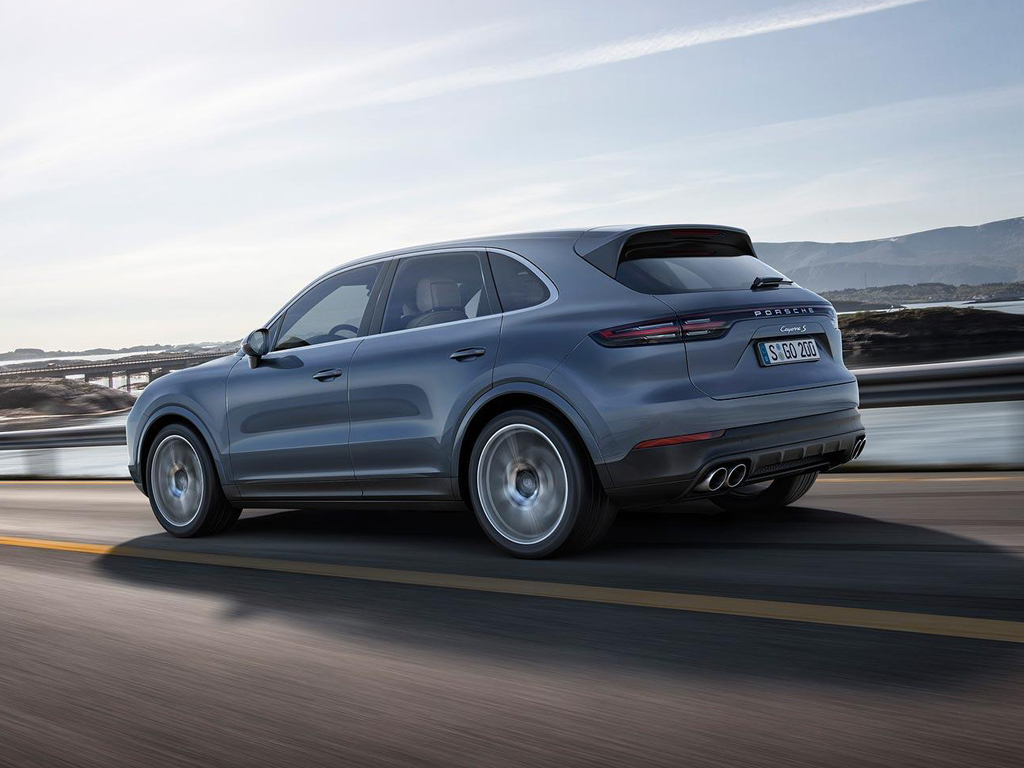 Porsche updated the interior of the 2018 Cayenne by doing away with many buttons and by replacing them with a 12.3-inch touchscreen and a few touch-capacitive controls. The interior retains the analog tachometer which now comes with two 7-inch color displays on either sides that read out driver information.
The new Cayenne comes with a list of goodies that are offered in other Porsche products. Rear wheel steering, a Porsche Active Suspension Management system for "finer degree of specific calibration" of the air suspension, a new Porsche Dynamic Chassis Control that uses a 48-volt electrical system and a new semi-autonomous driving tech called Innodrive are a few of them.
The Porsche Cayenne is currently available for order in the UAE, Saudi Arabia and GCC markets.