First drive: 2018 Mercedes-Benz V-Class in the UAE
The minivan segment may be dying, but there are quite a few players trying to keep it alive. Honda, Chrysler and Kia offer the only mainstream ones in the GCC. Toyota does a jurassic-era fleet-spec one. BMW and Opel offer a couple of poorly-received ones. And then there is Mercedes-Benz, who have converted a commercial van into a luxury people-carrier, much like what Volkswagen did with their Transporter Multivan.
Pitched at high-end families who desperately need the space, and possibly executive travellers, the Mercedes-Benz V-Class looks very van-like on the outside, but in Avantgarde trim, it has upgrades such as LED-encrusted headlights, 19-inch alloys and LED tails. At night, you'll think some Mercedes 4×4 is driving up behind you. It's a big van, but it fits in underground parking lots.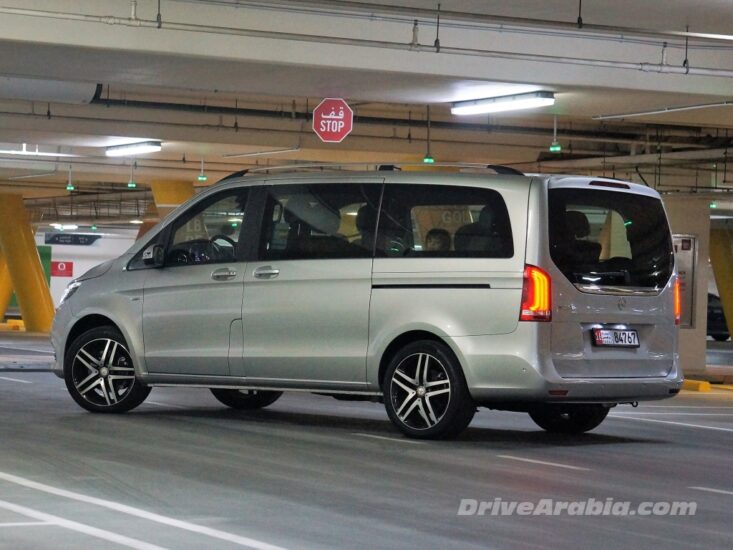 That tall profile means you can roam around inside the cabin more easily than any other typical minivan, which was great when installing baby seats (and the babies). The two rows of individual seating behind the driver can be configured in the usual bus format or be made to face each other in conference format, making a great place to hang out in. All the seats can be slid back and forth, with adjustable/folding back-rests and headrests, while the middle row can be optioned up with captain's chairs that have armrests and a sliding centre-console as well, as seen in our tester.
By far best use of space is the cargo compartment. It comes with an optional shelf so, with the third row in use, the upward cargo space can be used more efficiently. The rear window also opens (also as an option), so it is easy to access only the upper shelf without opening the entire power-operated tailgate.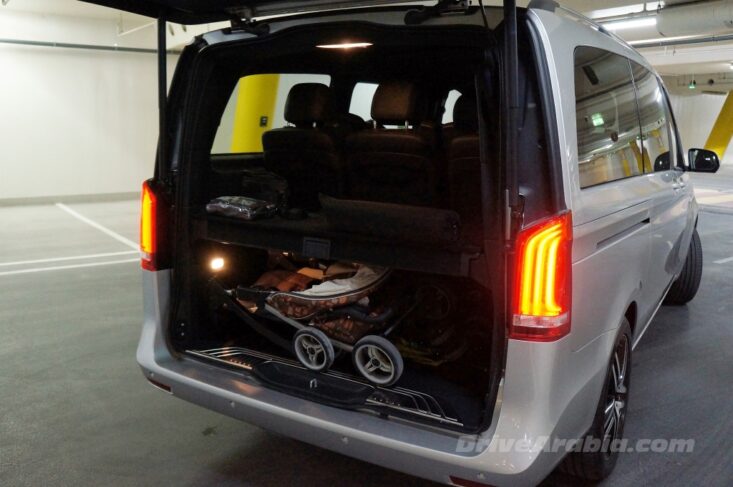 There is a mix of stitched-leatherette surfaces, wood panelling, soft-touch padding and hard plastics throughout the cabin in our top-spec model. Some of the placements are a bit random, such as the hard wood armrests in the third row. From the driver's seat, the ambience is almost as premium as in the GLS-Class SUV even, with Benz trademarks such as the 8-inch tablet-style screen, the rotary controller and the stick-thin electronic column shifter. The seats are real leather-upholstered.
Our V250 Avantgarde had several fancy features, such as the power-sliding doors, the changeable ambient cabin lighting, the crisp animated graphics on the screen, blind-spot monitoring, 360-degree cameras, two USB ports up front, very good auto a/c with rear ceiling-mounted vents, good stereo, power front seats, sunroof and more. However, there are too many omissions compared to "regular" minivans that cannot be overlooked, especially since it costs much more.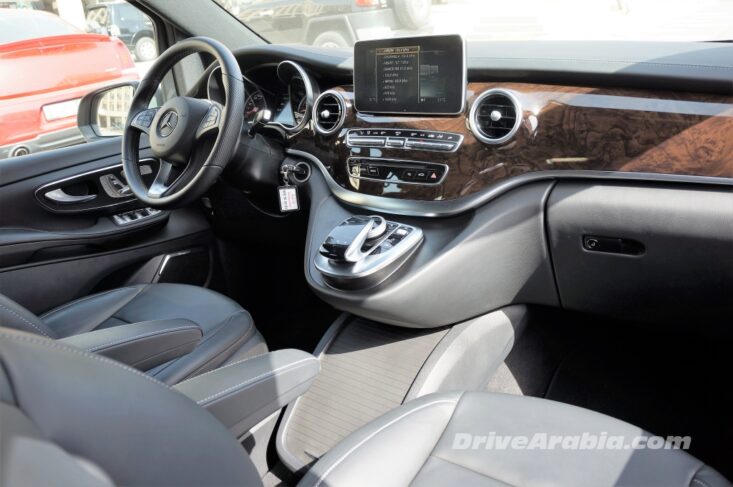 For starters, ours was not of the smart-key variety, just regular keyless entry. There is no rear-seat entertainment, nor rear a/c controls, no roll-down side-rear windows (third row vents only), nor anywhere near enough cup-holders in the rear (there's two shallow ones in front and only two clip-on ones in the back). Options such as panoramic glass roof and ventilated seats drive up the price even further.
There are also ergonomics issues, mainly the front cup-holders being placed almost on the floor, and the trademark Benz cruise-control stalk that can be unintentionally activated when trying to use the indicators — we turned on the speed limiter by mistake and panicked for a few moments as the van wouldn't go above 30 kph when we entered the highway, before we figured it out.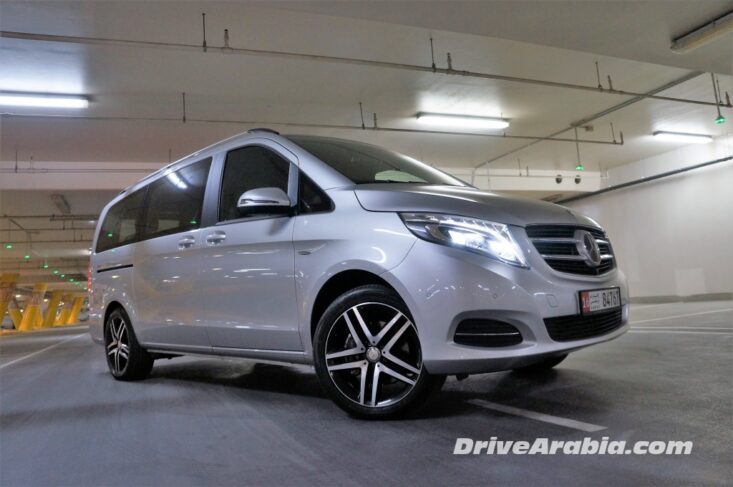 The rear-wheel-drive V250 is powered by a 211 hp 2.0-litre turbo 4-cylinder mated with a 9-speed automatic. It offers adequate kick, with obvious turbo lag when taking off from idle, good power above 1500 rpm and then tapering off at higher speeds, as it takes a good while to accelerate from 100 kph to 120 kph. It's not particularly economical, as we averaged 17.5 litres/100 km (5.7 km/l, although the GSO window-sticker shows a rating of 12.5 km/l).
It comes with paddle shifters and even a sport mode, but it's not particularly fun to drive as the big van is tuned for comfort. The suspension is well-tuned, soaking up bumps while keeping body roll in check, but it can feel mildly floaty at times. Wind and road noise are kept down well for such a large vehicle.
Grip is good from the 245/45 tyres, but the brakes are hugely annoying as the pedal does nothing initially, and requires a hard push to begin stopping gradually — as if designed to smoothen the ride for passengers in case your chauffeur is a taxi driver who uses the brake pedal as an on-off button. The somewhat-light steering is similarly rubbery.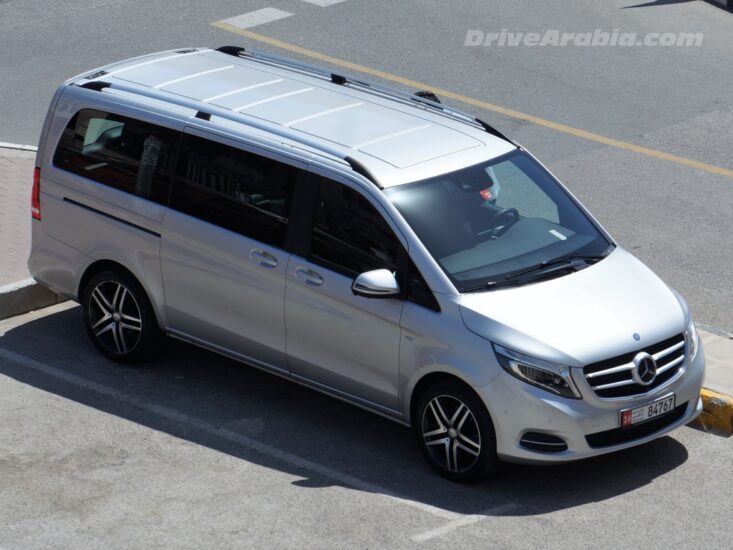 In an age where lesser minivans are outrunning hot hatches and have night-vision rear child monitors, the V-Class comes off as an overpriced dinosaur. However, it has two things going for it — one is its huge cabin; and the other is that it's a Mercedes-Benz that feels like one.
For prices and specs, visit the Mercedes-Benz buyer guide.
Photos by Mashfique Hussain Chowdhury.