Toyota's top sports cars before new Supra comes in 2019
In recent times, Toyota is a name that is synonymous with econoboxes and workhorse vehicles that can run for a million miles with no hassles whatsoever. But this boring existence of the iconic Japanese brand once had an exciting past. There were Toyotas that set the pulses of enthusiasts racing once they hear its name. Remember the scene in the original Fast and Furious movie in which the late Paul Walker shows up with a totaled Supra and his garage junkie/techie kid goes "2JZ? No s***!". That's the sort of respect these Japanese rockets got from the petrolhead lot in those early times. New age regulations and the hunt for profits have diluted this. But a bit of that DNA can still be found in the current-gen Toyota 86 that returned to make the brand exciting again (with a little help from Subaru). So with the new Supra on its way (now with a little help from BMW), let's look back at the enthralling past of Toyota's sports cars.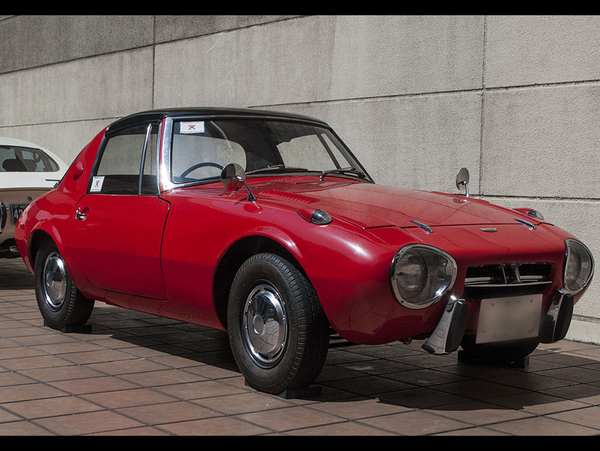 1965 Toyota S800
What's the point in going on about a matter if we don't talk about the very genesis of it? So here goes. The first ever proper sports car from Toyota was this puny little thing that showed us its face in 1965. Called the S800, short for Sports800, this car sported a tiny 2U 800cc engine that dished out a modest 44 hp. But with a well-tuned body and a curb weight of less than 600 kg, this car was a hoot to drive. But more important than that, the S800 laid the foundation for Toyota to build a reputation on.
1967 Toyota 2000GT
In 1967, the 2000GT, arguably the best looking Toyota of all times was released. This beautifully crafted machine was a combination of a stunning all-aluminum body, a front-mounted Toyota straight-six motor reworked by Yamaha and drive at the rear. With all this going into it, the 2000GT was a far cry from all the boring Toyotas of that time. The straight-six motor dished out 150 hp which when coupled with a body that weighed just 1130 kg, made this car an exciting machine. Fancy one? The rareness of it and its James Bond connections have given the remaining 2000GTs a boost in its price. A well-maintained example can now go for millions now.
1970 Toyota Celica
The Toyota Celica was not intended to be an outright sports car when it was first released in 1970. It was a hardtop coupe with a 2+2 seating layout meant to be Japan's answer to the pony cars of that time, especially the 1960's Ford Mustang. Later in its timeline, the Celica grew into a sports car that was exciting to drive. The liftback body style pictured here was revealed at the 1971 Tokyo Motor Show. In its domestic market, the Celica had a surfeit of engines ranging from 1.4 to 1.6-litre in size on offer. Out of these engines, the sportiest one was the top banana, the twin-cam 2T-G which produced 115 hp. Built on the Toyota Carina sedan's platform, the Celica was a magnet for critical acclaim. It was affectionately called the Japanese Mustang due to its design.
1984 Toyota AE86 Corolla
How did a Corolla end up on this list? The AE86 Corolla from the '80s is simply one of the most understated enthusiast's cars in the history of motoring. Not many but absolute car fans know about this machine and even less own one. It was a magnificent combination of light bodywork, a punchy engine, and crude analog simpleness. The source of power was a fuel injected 4-cylinder twin-cam 1587 cc 4A-GE engine which managed to produce 128 bhp. Available in two different trims, namely Trueno and Levin, the AE86 was and still is a hot favorite among the car-crazy lot especially the tuners due to its impeccable Japanese reliability. The AE86 also was featured in a few motorsport events which include road, rally racing and even touring car championships. But above all that, it is a combo to die for. A naturally aspirated four pot that redlines at 7600 rpm, a proper manual gearbox, and rear-wheel-drive? Sounds familiar.
1984 Toyota MR2
The Toyota MR2 was a mid-engined rear-wheel drive sports car that Toyota made from 1984 to 2007. The MR2 was built with the same lightweight formula in mind as the car tipped the scales at just a speck over the ton mark. Though the first gen rev-1 models were plagued by oversteer issues, the rev-2 models that succeeded it came with bigger wheel size, upgraded suspension and bigger anti-roll bars that rectified all of them.
A list of engines was offered with the MR2 with outputs ranging from a decent 128 hp to a colossal 242 hp in the turbo variants. The manual gearboxes were made to handle a lot more torque than what the engine could produce. The turbo version had a much stronger gearbox with longer gears while the normal variants had one with shorter ratios tuned for better acceleration. A used MR2 is a relatively cheap option for anyone looking to step into the mid-engined sports car arena, but sadly it was never offered in our region.
1987 Toyota Supra
The Toyota Supra needs neither an introduction nor a justification for its inclusion in this list. The Supra was just an off-shoot model of the Celica before, hence the first two generations were known as the Toyota Celica-Supra. These cars were uninspiring and didn't amount to much more than what the Toyota 86 is today, the former maxing out at 178 hp in their most potent form. However, the Supra cut all ties with the Celica in its third generation and became a fully separate model in 1986, growing in size and getting all sorts of cutting-edge tech as the years went on, such as the 280 hp 1JZ-GTE twin-turbo I6 engine option, electronically-adjustable suspension and even power-adjusted seat bolsters. We know because we owned one.
1993 Toyota Supra Turbo
Though the Supra was made from 1978 to 2003, it was the post-1993 A80 model that attracted all the attention. The 2JZ engine that received recognition in the movie was plonked in the Supra's engine bay in 1993.
The famous 3.0-litre straight-six engine was available in two versions namely the 2JZ-GE, a naturally aspirated unit that produced 220 hp and the twin-turbo 2JZ-GTE that was good for 276 hp. The 2JZ-GTE models built for export made even more power, 320 hp of it. It became a tuner's favorite due to its bullet-proof construction as the engine was able to handle power much higher than what it produced as stock. Tuners around the world have hiked the output to more than 1000 hp with minimal changes in the components. This gem of an engine gave the Supra the cult status that it enjoys even now, 14 years after its demise.
2013 Toyota 86
The new boy in Toyota's sports car lineup was first released in 2012 with a bunch of distinctive monikers. This very car is also known as 86, GT86, FT86, Subaru BRZ and Scion FR-S in different parts of the world. No matter what tag it bore, the 86 brought the perks of low-slung sports car motoring to the masses without costing them an arm and a leg. The naturally aspirated 2.0-litre 4-cylinder boxer engine jointly developed by Toyota and Subaru produces about 200 hp without the torque to back it up like a VW GTI-style turbo motor would. Ever since then, fanboys have been clamouring for more power.
A proper 6-speed manual gearbox channels this power to the rear wheels. A 6-speed auto box is also on offer if you want one (seriously?). This affordable sports car from Toyota's stable is now refreshed for 2017 with some changes which include reworked suspension, stiffer chassis and a track mode for more tail-out action. But as slow as people say it is, the Toyota 86 is one of the few cars which haven't fallen prey to the modern trends of complete automation, forced induction and hybrid powertrains.
That's all folks. That was a glance at the past of Toyota's sports cars. The icons that ruled the good olden times of motoring. But there is good news as well. As the lower rung of the fiscal ladder is now occupied by the 86, a new Supra will perch at the top. Based on the FT-1 concept they showcased at the January 2014 North American International Auto Show, the new Supra will, against our will, be co-developed with the next-gen BMW Z4 and have a hybrid powertrain. A racing version has already been shown, but the road version will likely be heavily simplified. And it is expected to be expensive.