First drive: 2020 BMW X4 M Competition in New York USA
There was a time when sports cars were low-slung and had two seats, while SUVs were slow, lumbering behemoths that were good at hauling loads and conquering rugged terrain, but not much else. However, boundaries have been blurred over the past decade and a half, and a sub-genre has emerged that morphs these two divergent vehicle types into a single entity.
The notion of an ultra-sporting SUV might seem an oxymoron, as the all-terrain wagon was originally conceived as a utilitarian device designed to fulfill a very specific purpose. There was nothing vaguely sporting about the 1940s Willys Jeep and Land Rover Series 1 – which evolved into the Defender – but nor was there meant to be. They were tough, crude workhorses by design.
But times change, and with it so do buyers' tastes and needs. The vast majority of today's SUV shoppers aren't looking to conquer towering dunes or traverse mud-plugged, boulder-strewn trails. Instead, their focus is on the school run, office schlep and Carrefour shopping expeditions. As proof of this, you only need to notice how many spotless SUVs are plying our roads. Most have never even been down a gravel road.
In many cases, sports cars have been usurped in driveways and garages by a burgeoning breed of SUVs that serve up searing acceleration and handling dynamics that seem inconceivable for a high-riding wagon that weighs two tonnes or more. Sure, they can't go too far off the beaten track – thanks to compromised ground clearance and tarmac-focused low-profile tyres – but that isn't a concern for their would-be buyers.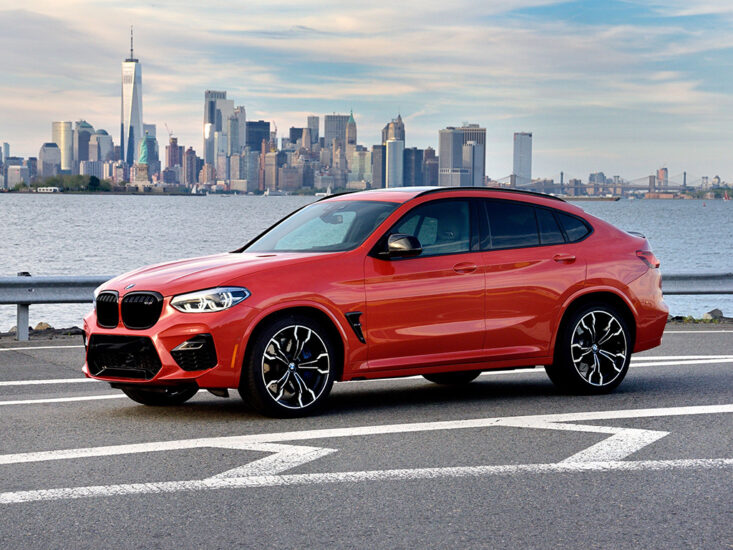 The latest addition to the uber-SUV clique – joining the likes of the Porsche Macan Turbo, Alfa Romeo Stelvio Quadrifoglio, Mercedes GLC 63 AMG and Jaguar F-Pace SVR – are the BMW X3M Competition and X4M Competition, which we traveled to New York State to sample. Although the two vehicles are mechanically identical, the latter has an abbreviated fastback roofline to mimic the profile of a coupe – BMW refers to it as a "Sports Activity Coupe".
The newcomers are significant as BMW hasn't previously offered M-suffixed versions of the X3 and X4. This single letter is crucial as "M" is short for "Motorsport", and cars wearing this hallowed designation are prepared by a subsidiary of BMW that specialises in high-performance offerings. No less significant is the fact that the X3M and X4M are the first recipients of the brand-new 'S58' 3.0-litre twin-turbo engine that will in due course be slotted into updated versions of the fast and focused M3 and M4 – sedan and coupe respectively – as part of their upcoming mid-life upgrade.
It's a mighty engine, too, as the S58 unit's lofty outputs of 510 hp and 600 Nm distinguish it as the most powerful six-cylinder powerplant BMW has ever built. Driving all four wheels via an eight-speed automatic transmission and M5-derived 'M xDrive' all-wheel-drive system that individually splits torque to all four wheels, this motor spears the X3M/X4M Competition from 0-100 kph in a claimed 4.1 seconds and a top speed of 280 kph if you specify the optional M Driver's Package. These are stats that would have done a flagship Ferrari or Lamborghini badge proud a couple of decades ago. As an added bonus, the twin-turbo motor emits a nice crackling, snarling soundtrack from its quartet of tailpipes.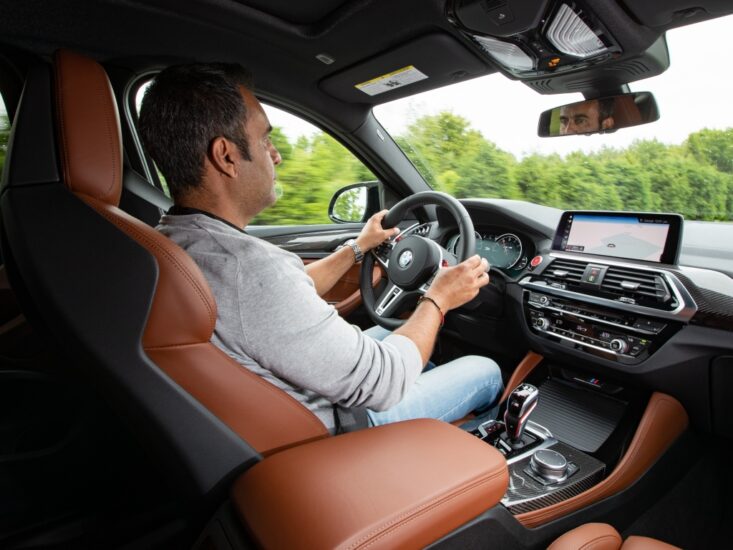 No less eye-opening is the alacrity with which the X3M/X4M Competition can devour winding country roads or a racetrack, which would normally be the last place you'd take an SUV. Our drive program included a track session at Monticello Motor Club, a snaking ribbon of tarmac in upstate New York that packs in 21 challenging turns – many preceded by blind crests – in its 5.79km layout. Many of the corners are off-camber, which is normally a recipe for lost traction and understeer, whereby the vehicle tends to go plough straight on, rather than tracking the intended line around the corner.
It's a combination of deft chassis tuning and the rear-biased 'M xDrive' system that the X4M Competition can hustle around the dipping and diving Monticello circuit with the agility of a hot-hatch, rather than a lofty wagon that stands more than 1.6 metres tall and weighs a hefty 2,045 kg. From behind the wheel in the elevated cockpit, it seems there's black magic at work.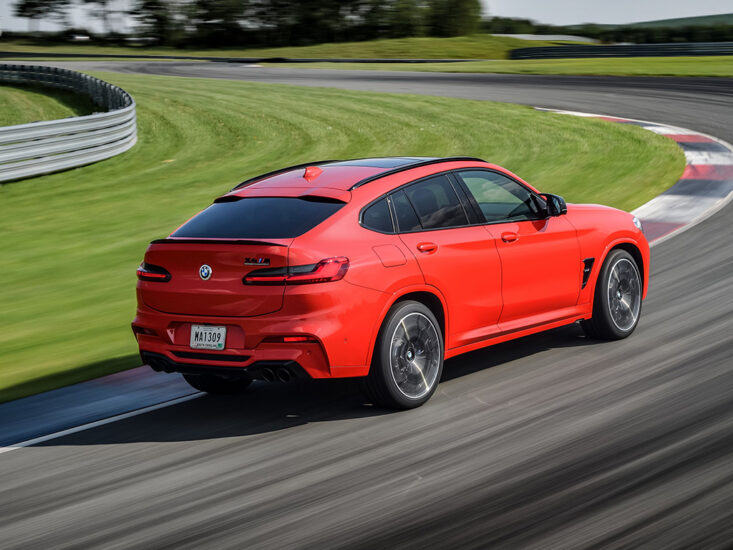 On the minus side, the X4M Competition's ride quality borders on bone-jarring and the M Servotronic steering feels somewhat artificial. That said, the steering is still accurate and well-weighted, and feels far more 'organic' than BMW's Active Steering setups of a few years ago.
The latest-gen X4 has a 51mm longer wheelbase than its predecessor, which has liberated valuable extra legroom in the rear. Only the loftiest of individuals will find their knees brushing against the front seatback, unless the occupant in front has slid it all the way back. Obviously, the tapered roofline means headroom is compromised in the rear, but anyone under 1.83m should be fine.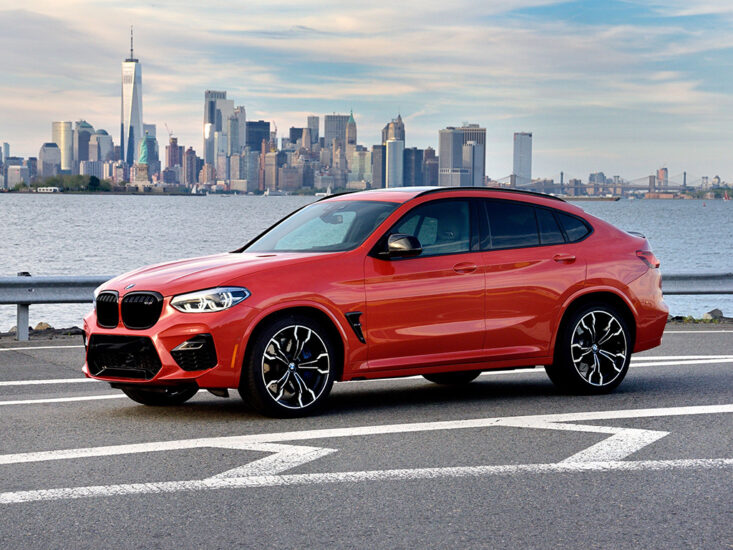 Luggage space is pretty respectable at 525 litres with the parcel shelf in place, and this can be extended to a cavernous 1,430 litres with the rear seatback folded and parcel shelf retracted. The boot cavity is wide and long, but the load opening is smaller and higher than that of the X3, and its versatility is limited by a steeply raked rear windscreen that means stashing tall, bulky items is out of the question.
All in all, the X4M Competition is a more versatile chariot than one might have expected – it can tackle a range of duties, as long as off-roading isn't one of them. You may question the value credentials of a 'non-all-terrain' SUV that's likely to cost around Dhs 380,000 when it launches here in late-October, but there's no denying the X4M Competition serves up bucketloads of pace and fun factor. It may not be a particularly sensible purchase, but BMW is counting on its target audience being ruled more by the heart than the head.
Photos by BMW.