First drive: 2020 Audi Q7 in Ireland
Audi was one of the first Euro players to enter the luxury seven-seat SUV space when the first-generation Q7 launched back in 2005, and Ingolstadt's big all-terrainer has since carved out a solid niche for itself. That said, a decade ago the Q7 didn't have too many direct competitors, but it now must stave off the likes of BMW's brand-new X7, reinvigorated Mercedes-Benz GLS, Cadillac Escalade, Lincoln Navigator, Infiniti QX80 and Lexus LX570, all of which are arguably one size bigger.
The Q7's strengths have always been its refinement, practicality and impeccable quality in all its touch/feel elements. The first-gen model also had pleasing proportions for such a hefty chariot. The brand-new successor that followed in 2015 built on many of the strengths of its predecessor, but seemed to regress in the style department, thanks to relatively bland design language that did little to excite the senses.
Cue the 2020 update, which we've just lobbed into County Kerry, Ireland, to sample. The newcomer doesn't represent a wholesale revamp of the existing model, but it nevertheless scores an assortment of visual tweaks that do just enough to give the big SUV a bit more panache and road presence. The more significant changes are on the inside, as the long-serving MMI interface has been canned in favour of dual central haptic-feedback touchscreens that bowed in the 2019 Audi A8 flagship sedan and have since made their way into the A6, A7, and Q8.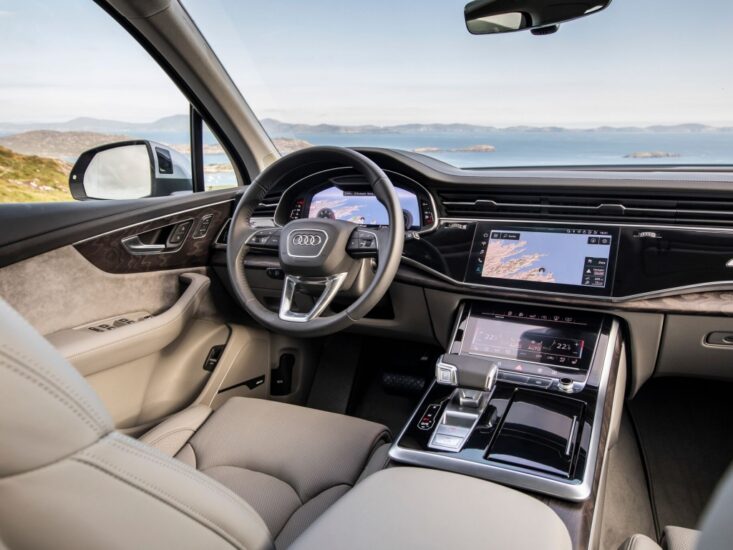 The upper 10.1-inch screen is for the infotainment settings, while the lower, slightly smaller panel controls vehicle functions. It also acts as a writing tablet for inputting navigation info and the like. The system is configurable, the display resolution is crystal-clear, and with a processor fifty times faster than the outgoing unit, response time is instant. Facing the driver is Audi's 12.3-inch Virtual Cockpit, rounding off the digital bonanza inside. As visually attractive as all this is, I found it challenging to even alter the temperature settings while navigating across extremely narrow Irish country roads. There's a lot to be said for the simplicity of old-fashioned twist knobs.
Other than this, the Q7 is a fool-proof device that caters well to both driver and passengers. As touched on earlier, the somewhat bland styling of the existing model has also been reworked to give the latest Q7 more visual appeal. The new grille with its chrome vertical strakes, along with the redesigned headlights (Laser Matrix optional), make for a more distinctive face, while recontoured lower side body panels relieve the slab-sided look of the outgoing vehicle. Meanwhile, the derriere has been smartened up via slimmer taillights – now connected by a horizontal chrome strip – and a new bumper fascia.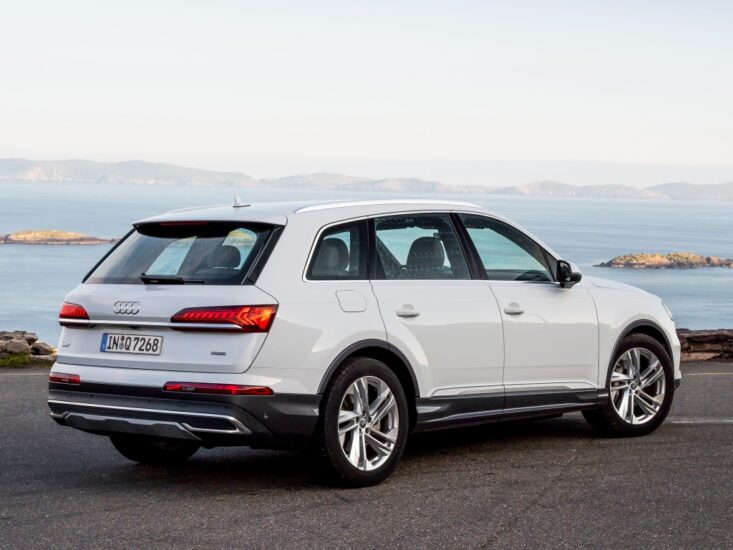 While the base Euro-spec Q7 is powered by a carry-over 248 hp, 370 Nm, 2.0-litre four-cylinder turbo motor, the car we drove at the launch sported Audi's latest 3.0-litre twin-turbo V6 that pumps out 340 hp and 500 Nm from 1,370 to 4,500 rpm – handy increments on the old supercharged V6's outputs of 330 hp and 440 Nm. The new unit is also smoother and more frugal than its predecessor.
Drive is relayed to the tarmac via an eight-speed Tiptronic auto and quattro all-wheel-drive system that can send up to 70 percent of the torque to the front wheels and 85 to the rear, depending on grip levels.
Helping with efficiency is a mild-hybrid system that incorporates 48-volt electronics, a lithium-ion battery, and a belt-driven alternator/starter (BAS) that harnesses kinetic braking energy. The recouped energy is used to power various electronic systems, and there's also a fuel-saving coast function wherein the engine switches off when you lift off the gas at cruising speeds.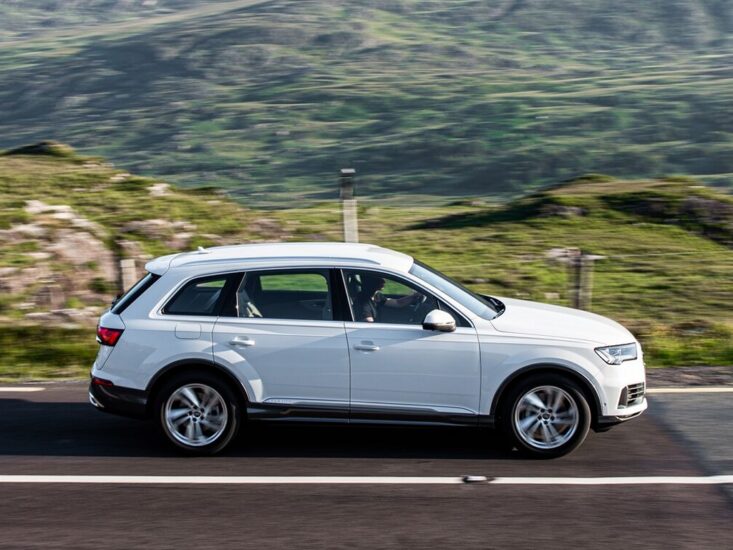 The 48-volt system also allows for the Q7's new active roll stabilisation that helps quell the inherent body roll of a high-riding SUV, while also maintaining acceptable ride compliance. The Q7 isn't as agile as a BMW X5 or Porsche Cayenne, but it strikes a nice balance between comfort and dynamism. It also gains a sense of nimbleness via a new quicker steering ratio – 2.4 versus 2.9 turns lock-to-lock.
All in all, the updated Q7 adds just enough tech features and visual pizzazz to keep it competitive against the brand-new BMW X7 and third-generation Mercedes GLS. The big Audi may not set any dramatic new benchmarks, but it still stacks up well as an all-round package.
Photos by Audi.