2020 Land Rover Defender debuts as a completely modern offering
The old Land Rover Defender became legendary for its offroading prowess while offering a minimum of modern conveniences. It was never particularly suited for markets outside Europe though, with its pathetic diesel engine (a weak petrol V8 option died a quick death by the late 90s), its unsuitability for extreme desert driving, its sky-high price that dwarfed more capable rivals, and its propensity for being unreliable even after half a century of development time. Owners and fans may vehemently disagree, setting a low bar for their expectations, but even I wore the Land Rover blinkers for several years before coming to my senses.
So the Defender is back as a thoroughly modern vehicle, after being teased as a concept almost a decade ago. It was one vehicle they wanted to get right, but it has moved on to the premium-rugged category defined by leather dashboards and side-hinged tailgates, falling somewhere between a fully-loaded Jeep Wrangler and a basic Mercedes-Benz G500. The 2020 Defender looks terrible now, but unlike the bulbous Discovery, we will likely get used to it and come to accept the unique design.
Unlike its indirect rivals though, the new Defender ditches the old body-on-frame chassis for a new aluminium monocoque architecture dubbed "D7x" that will likely underpin a variety of body styles. Initially it will be available in 3-door "90" and 5-door "110" body designs, with up to six seats in the Defender 90 (using three seats in the front) and the option of five, six or 5+2 seating in the Defender 110. A 130 long-wheelbase model is expected in the future. Interestingly, the 90 and 110 figures used to represent the wheelbase in inches on the old models, but the actual wheelbases now are several inches longer.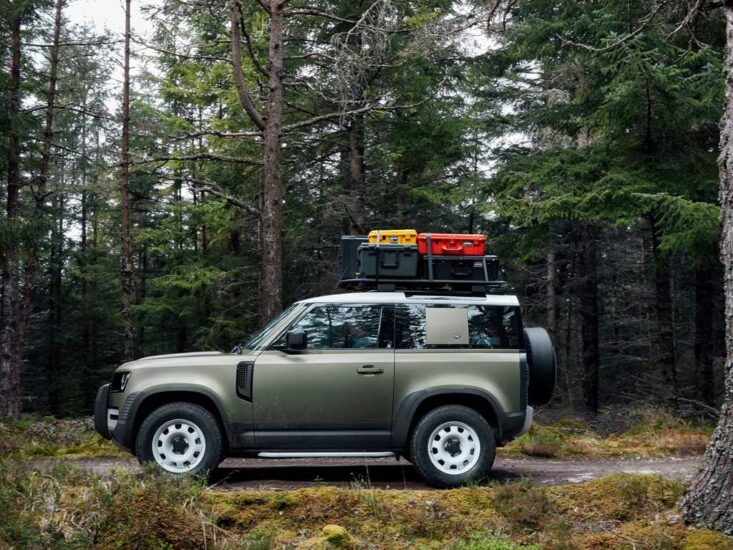 The range comprises Defender, S, SE, HSE, First Edition and top-of-the-range Defender X. Customers will be able to personalise their vehicle with four Accessory Packs. The Explorer, Adventure, Country and Urban packs that offer everything from steel wheels to cargo holders that attach to that thick optional "square" in the side-windows. Available features include a rubberised floor, a roof-top tent and a full-length folding fabric roof in the Defender 110. Exclusive First Edition models featuring "unique specification" will be available throughout the first year of production. A commercial model will be introduced in 90 and 110 forms next year.
Petrol engines include a 296 hp 2.0-litre turbo inline-4 with 400 Nm of torque, and a 394 hp 3.0-litre inline-6 with 550 Nm, the latter bumping up its power with the help of a permanent-magnet electric motor and a lithium-ion battery pack. Two 2.0-litre turbodiesels will also be offered, one making 197 hp and the other 237 hp. All get 8-speed automatics and all-wheel-drive with low-range gearing. No manual will be offered.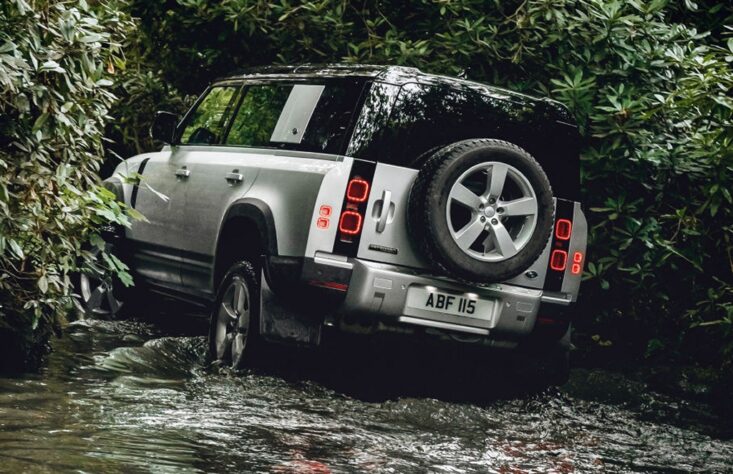 Fully independent coil-spring suspension is standard, while air suspension is optional. The Defender 110 offers ground clearance of 291 mm at offroad height with the air suspension, and approach, breakover and departure angles are at 38, 28 and 40 degrees respectively.
Land Rover quotes a maximum payload of up to 900 kg and towing capacity of up to 3720 kg.
Maximum wading depth is now at 900 mm, and supported by a new "Wade" program in the Terrain Response system, which also has other terrain settings as well as an "auto" option as before. Land Rover's "ClearSight Ground View" camera system is also available, to show the view hidden by the bonnet.
Expect the new Defender to show up outside shopping malls near you by the middle of next year, starting with the 110 model. In the UAE, we're guessing prices will start north of Dhs 200,000 mark for the 2.0-litre, and at Dhs 250,000 for the 3.0-litre, topping out at Dhs 350,000, not including dealer markups.