First drive: 2020 Toyota Supra in the UAE
We love grand tourers. They have the perfect balance of excitement and practicality. We owned a big brash third-generation Toyota Supra (the one before the Farce & Furious hero car) about a decade ago, and it had immense road presence as well as the ability to carry four people in a pinch. From that we moved on to a Jaguar XK, and even considered an old Bentley Continental GT at some point. But the 2020 Toyota Supra is not a grand tourer. It's a full-blown sports car.
Despite Toyota not mentioning the "B" word at all during the launch event at the Yas Marina circuit, everybody and their grandmother knows by now that the new Supra is now based on an all-new platform co-developed (or mostly developed?) by BMW, as well as sharing drivetrains and a whole lot of other bits under the skin. It was a cost-cutting measure to frugally develop a niche product, but the car itself is a properly premium product and the final tuning was done by Toyota's Gazoo Racing division (as denoted by "GR" badges on the car).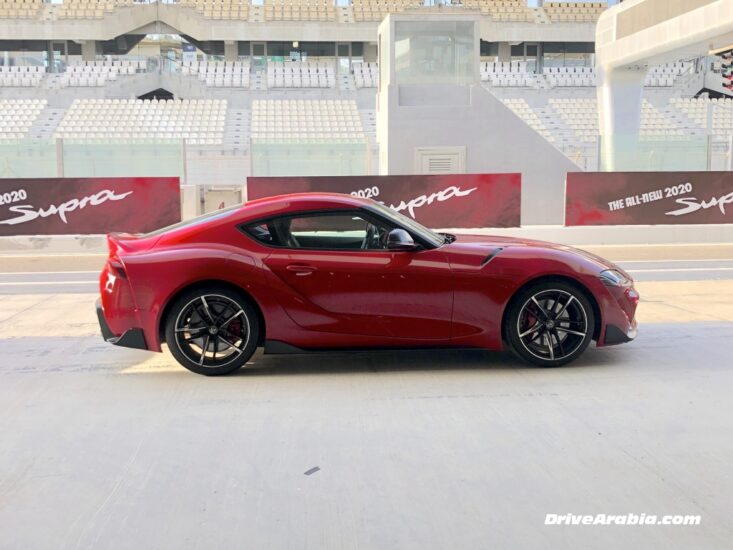 Completely original on the outside, the car looks great in real life. However, it is clearly much smaller than any Supra before it, feeling at home with the likes of Porsche Caymans now rather than Nissan GT-Rs, as the "GR" Supra is no bigger than a Toyota 86, except with no back seat. Ironically, it shames its sibling, the relatively-ugly new BMW Z4 roadster, which costs more and doesn't come in coupe form.
While the exterior is all bulges and fake vents within its short wheelbase, the interior has trademark BMW elements that are left unaltered, such as the electronic gear selector and the dial-controlled infotainment system. Aside from that, many surfaces are covered in padded leatherette and the trim bits look suitable for a car in its price range.
Once you squeeze in though, you will immediately notice how tight it is inside, and the view out the narrow windows is akin to the often-derided Chevy Camaro. Unlike the Camaro though, you won't be able see out the back of the Supra at all unless you're using the rear camera. And you can look inside the boot behind the seats, like the Corvette.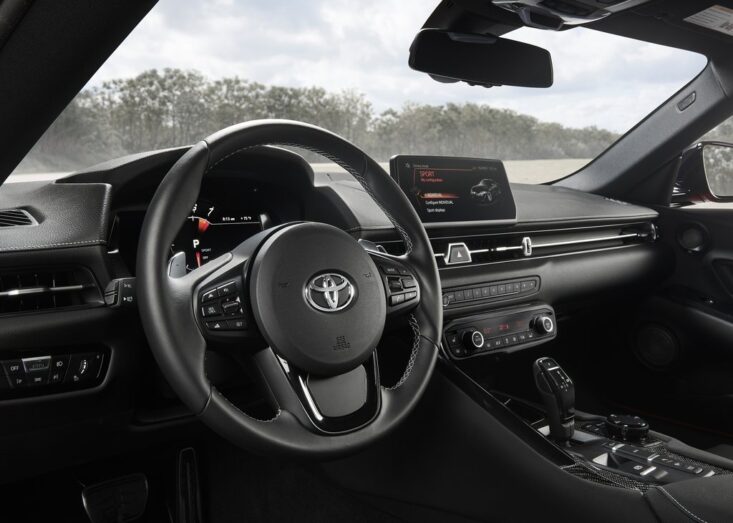 We only got one proper lap of a shortened section of the racetrack as well as 10 seconds around an autocross course to generate an impression of the car as we dinosaurs had to share drive-time with a deluge of social-media personalities.
On a track, the car doesn't feel as fast as we expected. The power delivery is wonderfully linear, but we couldn't tell that this car is capable of 0-100 kph in 4.3 seconds. That's not a big issue, as it is plenty fast to have fun with, and the 8-speed gearbox is up to the task even without using the paddle-shifters. The grunty-sounding BMW motor makes 335 hp at 5000-6500 rpm and 500 Nm of torque at 1600-4500 rpm, although word among independent circles is that the turbo inline-6 actually makes 40 hp more.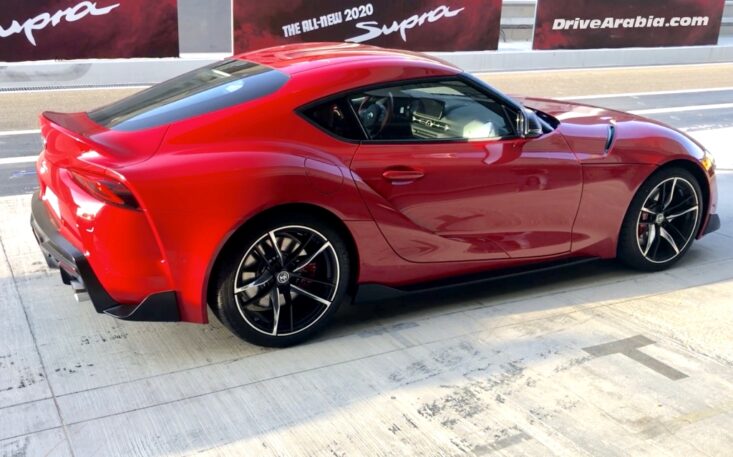 At high speeds, the short-wheelbase chassis is twitchy and playful, and it's possible to pull out the tail under trail-braking into corners. It almost feels as if grip is intentionally not excessive, so going around curves is a dance between understeer and oversteer because of the aggressive ESP, even in "Sport" mode. The steering is responsive, and while the brakes are strong, the pedal is soft and the rear sways like a squirrel under hard braking from 180+ kph. There is clearly potential to be a challenging driver's car with the ESP off, but weren't allowed for safety's sake and there is no "Sport Plus" mode like BMWs have.
We didn't get the chance to take it on public roads, so we can't comment on ride comfort and such, but it should be similar to other short-wheelbase sports cars, which are bumpy on rough surfaces and bearable on smooth ones. It should be fine on long drives as long as you're not claustrophobic.
There's potentially more to come with the Supra — base 2.0-litre turbo engines, special editions and what not — but there is only this one version at launch, and it's reasonably priced for a car competing with the big (or little?) boys from Germany. However, it is also in an awkward niche where it ends up competing with high-end versions of the Ford Mustang GT and the Chevy Camaro SS, while being too small to appeal to old-school paunch-bellied guys who grew up with the classic Supras. Judging from our limited drive, it seems like a great car in search of the right audience.
For UAE prices and specs, visit the Toyota Supra buyer guide.
Photos by Mashfique H. Chowdhury & Toyota.