Jeep Wrangler V8 Rubicon attempts to distract, while parent company renamed Stellantis
The arrival of the Ford Bronco is expected to be quite a hit on Jeep Wrangler (and Gladiator) sales, the only occupant of that segment (not counting leftover Toyota FJ Cruisers). But Jeep is not ready to let go of the throne that quick. Just hours before Ford unwrapped the Bronco, Jeep attempted to troll Ford by also revealing the V8-powered Jeep Wrangler Rubicon 392, if only as a concept that they are strongly hinting will go into production. In other news, the new company formed after the Fiat-Chrysler (FCA) and Peugeot (PSA) merger will be called Stellantis.
While there is some mystical irrelevant meaning behind the new name, FCA has also announced that the brands under the umbrella company (which now includes everything from Alfa Romeo to Citroen) will be left to operate as independent names, but will of course involve a lot of platform-sharing.
Leaving all the corporate shenanigans aside, the Jeep Wrangler Rubicon 392 Concept gives what enthusiasts have long asked for — a factory V8 engine option. The 392 Concept goes overboard by using the 6.4-litre V8, pumping out an impressive 450 hp and 610 Nm of torque. This will be a huge jump over the current range-topping 3.6-litre V6 making 285 hp and 353 Nm, but the 5.7-litre from the Hemi stable would have made for a reasonable middle-ground at an affordable cost. Because the asking price for this thing will surely be higher than a well-specced Ford F-150 Raptor.
To accommodate this big engine, the Jeep Wrangler gets a modified frame as well as upgraded engine mounts. Hooked up to the engine will be an eight-speed automatic gearbox and a two-speed transfer case. This should propel the 392 Concept from 0 to 100 kph in just over five seconds.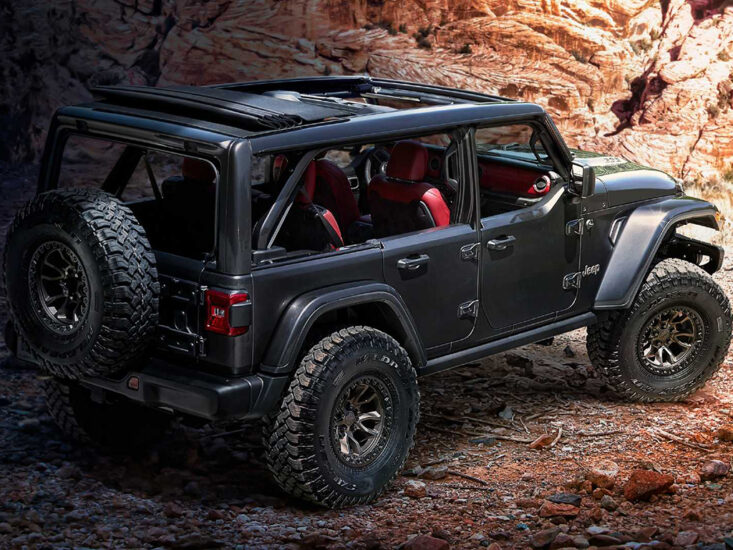 To up the off-road capability of the new Wrangler, Jeep has added high-strength Dana 44 axles as well as lockable differentials at both ends. Other improvements include a two-inch suspension lift, 17-inch beadlock wheels shod with 37-inch mud tyres and monotube Fox shocks.
Though the Jeep Wrangler Rubicon 392 Concept is still a show car, Jeep has heavily emphasised on the possibility of the V8 offroader making it into production. We're sure it will, given FCA's propensity to stuff ever-larger engines into cars no one asked for (here's looking at you, Dodge Durango). If the Jeep Wrangler Rubicon 392 Concept goes into production, it will be a very cool and very expensive niche player that won't make much of a blip on the sales charts.