Nissan Patrol 2010 launched in Abu Dhabi

The all-new 2010 Nissan Patrol was launched on February 13th, at a VIP event in Abu Dhabi. While we didn't go, information is already trickling down on the net about the redesigned Patrol.
The 2010 Nissan Patrol is powered by a 400 hp 5.6-litre V8 with 560 Nm, with features such as "VVEL" variable-valve timing and "DIG" direct injection, and mated to a 7-speed automatic. A variable 4×4 Mode package allows switching between four drive modes: sand, on-road, rock and snow, with the flick of a switch. And a "Hydraulic Body Motion Control" system is available, seemingly a fancy term for four-wheel independent air suspension. Also available are an electronic locking rear differential, hill start and hill descent control, as well as lane-departure warning, automatic braking and stability control.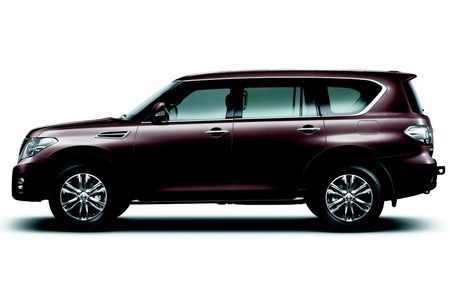 While there is no written mention of a lower engine option anywhere, one presentation even spoke of a base 317 hp 5.6-litre V8 with 521 Nm of torque, a possible carryover engine from the outgoing Armada. We also found out that there are two minor exterior variants, with the lower models getting a simpler offroad-friendly front bumper and the top model getting a fancier-moulded "city" front bumper.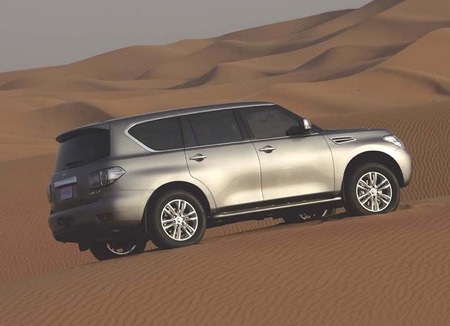 The 2010 Patrol is can be outfitted as a full luxury SUV, with climate-controlled leather seats, Arabic-supported HDD navigation, wide WVGA 8-inch touchscreen, multi-screen DVD entertainment system, 9.3GB Music Box hard drive, Bluetooth, power rear liftgate, keyless start, adaptive cruise control, around-view cameras, and a centre console cool-box that can be opened from both 1st & 2nd-row seats. A Nissan first is the Off-road Monitor that provides real-time information such as tyre conditions involving steer angle, slip and pressure.
We will briefly touch the 2010 Patrol on February 15th at an event in Dubai. The luxury 4×4 is rumoured to go on sale in the UAE in a month or two, at prices between Dhs 180,000 to Dhs 270,000, with the outgoing model continuing to be on sale in a stripped-down trim for real offroad enthusiasts. Keep track of updates in the Nissan Patrol buyer guide.