Porsche Panamera V6 model launched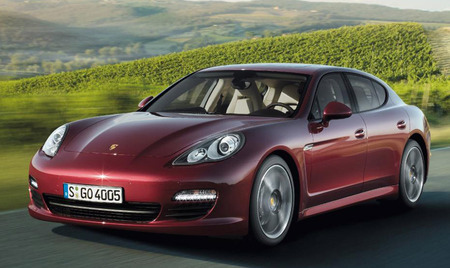 Porsche has recently launched a V6 model for the Panamera. Two models, the Panamera and Panamera 4, debuted at the Beijing Motor Show. The Porsche Panamera, which is already a super hit in this region, is sure to attract even more customers due to its lower price. Besides the engine, everything else is pretty much the same as the V8 models.
The Porsche Panamera gets a 3.6-litre V6 engine with direct fuel injection producing 300 hp and 400 Nm of torque. The U.S. models will get the PDK transmission, Porsche's seven-speed double clutch gearbox as standard. The Panamera will be rear-wheel drive where as the Panamera 4 gets the active all-wheel drive system.
To increase efficiency and performance, all Panamera models in general get axles, doors, hood, front fenders and tailgate made of aluminium to reduce weight. The V6 engine is said to be almost 30 kgs lighter than the V8, thereby reducing the overall weight to 1,730 kgs.
The Porsche Panamera and Panamera 4 should make its way into the UAE and GCC markets soon. For all the latest news and updates on the Panamera model in Dubai and Abu Dhabi, check out the Porsche Panamera buyer guide.