Mercedes-Benz SLS AMG on sale in Kuwait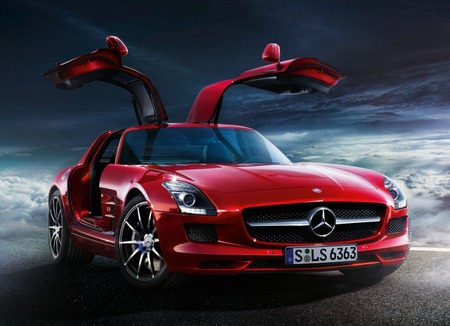 After going on sale in some GCC countries, including Saudi Arabia and the UAE, the Mercedes-Benz SLS AMG Gullwing was officially unveiled in Kuwait recently.
The Mercedes-Benz SLS AMG, built around an aluminium spaceframe body with gullwing doors, comes standard with an AMG 6.2-litre V8 developing 571 hp and 650 Nm of torque, dry sump lubrication, 7-speed double-clutch transmission, extendable rear aerofoil, 19-inch front and 20-inch rear wheels, sports suspension with aluminium double wishbones, all weighing in at 1620 kg. The Gullwing does the 0-100 kph acceleration run in 3.8 seconds, going on to a limited top speed of 317 kph.
First shown in the GCC at the 2009 Dubai Motor Show in a custom matte-gold paint scheme, the Mercedes-Benz SLS AMG is available in Kuwait from Albisher & Alkazemi Company.
For UAE prices and GCC specs, visit the Mercedes-Benz SLS AMG buyer guide.