Owner drive: Ford Taurus 2010 in Saudi Arabia

Back in 2008, Ford has released their full-size Five Hundred in the GCC, and it was a nicer alternative to the classic Crown Victoria. While it had potential, the dull exterior and interior were a let down. However, for 2010, Ford redressed the Volvo-based platform, and renamed it the Taurus. So what is the new Taurus? Just a redesigned Five Hundred? I purchased a 2010 Taurus SEL in Riyadh this summer, so let's find out.
The first striking thing about the new Taurus, is the exterior. It's big by all standards. Park it next to a Toyota Camry or a Honda Accord, and it looks like the Titanic. Even next to a BMW 7-Series, the Taurus doesn't shame. I think that's due to the height and width. At 60.7 inches tall and 76.2 inches wide, the Taurus is extremely tall and wide for a sedan, which gives it the 'hugeness' factor. So if you are into big sedans, this is as big as it gets. Though unlike the old Five Hundred, the Taurus is far from boring or dull.
On the inside, the bulk looks don't translate much. Yes, it will fit five adults in comfort, but the cockpit-like dashboard, and the waterfall center console take away a lot space. In other words, this doesn't feel as roomy as a Chevrolet Caprice. That said, the Taurus is such a nice place to be in, with thick leather padding on the steering-wheel, shifter, arm rest, and on the door panels. Personally, I think the Taurus has one of the best-looking interiors in its class, which is odd for an American car. On the other hand, some of the people I know simply hated the interior because it felt too snug, and the visibility is far from ideal. So it's a 'love or hate' sort of thing. Though no one can argue about cargo space, because the Taurus easily handled the shopping trip to IKEA, and even the rear seats didn't need to be folded.
However, the Taurus's most appealing aspect would be technology. This is where the Taurus doesn't disappoint, though it varies depending on which model you choose. The Taurus comes is SE, SEL, and Limited trims. In SE form, the Taurus loses a lot of its cool gizmo, but at least it comes with Bluetooth audio and Ford's 'give it to your teenager' MyKey system. The SEL, which I have, adds parking sensors, auto-dimming mirrors, LED fog-lights, electric seats with heat-adjustments, dual climate control, and Microsoft's Sync system, which lets you control the car's media system all through voice commands, and also adds services such as voice-directed navigation; all worked well given the need to speak in clear English. In Limited, the Taurus turns into a tech ride, with added gadgets such as blind spot monitoring, cross traffic alert, adaptive cruise control, massaging front seats, touchscreen stereo and more. With all that tech comes the question on whether these effect future reliability.
In terms of reliability, there's still nothing to be sure about as the Taurus is still too new, although the latest Fords have been scoring high on surveys. What I can tell you now though, is how it drives. Of course, to know how a car drives, always manage expectations; this is not some high-horsepower sports car. For a big family sedan, the Taurus fairs pretty well for the usual hassle, and the 263 hp 3.5-litre V6 can move the 2-ton Taurus nicely. It isn't supposed to win any drag races, but if you really want to know, the Taurus will hit 100 kph in 7.5 seconds. Of course, if that is too slow for your taste, there's always the turbocharged SHO model, but that car isn't in the Middle East yet. To enjoy the Taurus to its fullest potential, it should be driven on the open highway. For a road-trip vehicle, where the car should be comfortable, quiet, stable, efficient, and powerful enough, the Taurus certainly delivers top marks. At highway speeds, the double-layered glass and speed-sensitive steering do their job quite well, therefore the Taurus is astonishingly quiet and stable down the road. In terms of power and efficiency, the V6 is hooked up to a quick-downshifting 6-speed automatic. So not only does the transmission help with overtaking (some people even thought it was a dual-clutch automanual when downshifting), but it improves fuel-economy over the Five Hundred, at a combined average as low as 11 litres/100 km at times.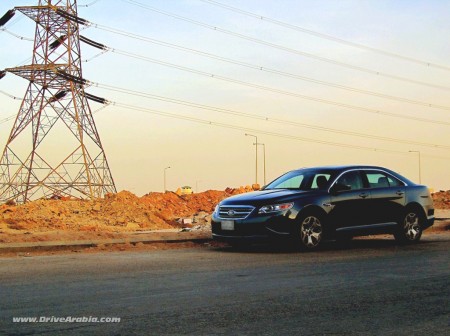 Comfort wise, the Taurus really feels more like a luxury car, rather than an inexpensive family sedan, thanks to its sophisticated suspension setup. On city roads, the Taurus doesn't like to be jammed in traffic, as the large C-pillars and high rear-end create a blind-spot that will hinder your movement to get out of Saudi Arabia's unbelievable traffic jams as quickly as possible.
In short, the new Taurus is a big family sedan, with a stylish exterior, quality interior, technology that will put its competitor into crying shame, and makes the highway its driving home. There is margin for improvement, but as it appears, the Taurus is taking its first steps into luxury driving. Therefore, if your primary goal is a very high-tech car that feels luxurious in its stability and quietness, and you don't care about the badge, the new Ford Taurus is going to work out pretty great.
Photos by Zeyad Haj Bakri
For more information, visit the Ford Taurus buyer guide.