Ferrari FF replaces 612 for 2012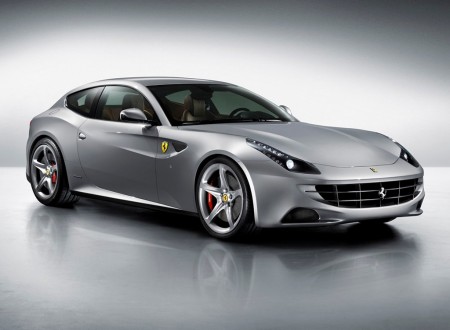 Ferrari has broken tradition and made their first ever four-wheel-drive "thing", the FF, short for Ferrari Four. Or it could stand for Ferrari Ferrari Four. Or it could mean Ferrari Front-engine Front-wheel-drive, as per the common meaning of the "FF" term. One thing is for sure, and that is it will replace the stunning 612 Scaglietti. The 2012 Ferrari FF will debut at the Geneva Motor Show.
The FF has an odd hatchback-shape, designed by Pininfarina. Ferrari's patented four-wheel-drive weighs 50% less than a conventional four-wheel-drive system, maintaining a rear-biased 47:53 weight distribution. Inside, the rear seats fold down to make more luggage room. It can accommodate four people.
The FF gets a massive 6.3-litre V12 engine. It revs all the way up to 8000 rpm, delivering 651 hp. Torque is rated 683 Nm at 6000 rpm. That power is controlled using the dual-clutch F1 gearbox and it helps reach 0-100 kph in just 3.7 seconds. Top speed is said to be around 335 kph. Fuel economy is rated at an awful 15.4 l/100 km.
Ferrari has always been popular in the GCC, especially in the UAE and Saudi Arabia. Expect to see the 2012 Ferrari FF on the streets of Dubai and Abu Dhabi, or more likely doing rounds in Jumeirah, although it likely won't sell as much as Ferrari thinks it will sell.
Keep track of updates in the Ferrari buyer guide.